Chinese poet Du Fu, who lived in the 8th century during the Tang Dynasty, once wrote, "From the northeast storm-tossed to the southwest, time has left stranded in Three Valleys." Around 1,200 years later, his words have come to life in the city of Chengdu, China, in the form of a mixed-use complex with the equally poetic name, Sliced Porosity Block.
The massive, 3.3 million-square-foot project consists of five irregularly shaped towers that surround three valley-like open spaces that cover a six-story, partially underground mall. The complex, which uses 468 geothermal wells to provide cooling and heating, and recycled greywater for its many water features and energy-efficient equipment, Sliced Porosity Block earned a LEED Gold certification along with its design accolades.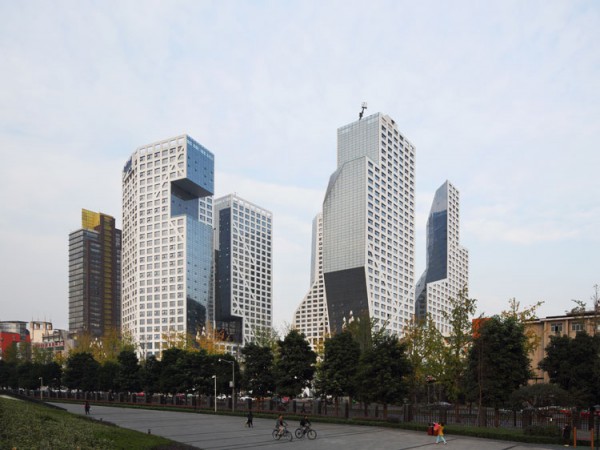 Commissioned in 2008 for CapitalLand Development and designed by Steven Holl Architects, the complex opened a few weeks ago with high-rise office space, apartments, retail stories, a hotel, cafes, restaurants and large urban public plaza.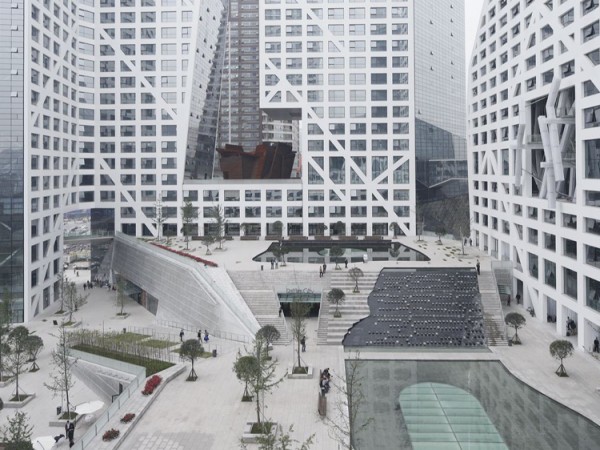 According to the Steven Holl website the designers wanted to create "a metropolitan public space instead of object-icon skyscrapers."  The complex project "takes its shape from its distribution of natural light," they added. Tasked with allowing a minimum amount of sunlight to filter through the buildings and into the surrounding neighborhood, the exterior of the while concrete buildings are perforated with six-foot-square windows that are "sliced" by diagonal seismic supports in some places.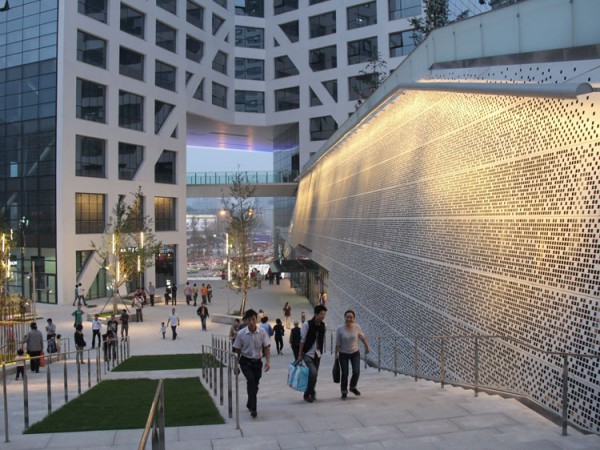 Carved into the sides of three of the towers are large openings are large atriums sculpted out of the mass of the towers. In these spaces are large-scale artworks, such as the jagged A Space of Light, by Lebbeus Woods, and the Local Art Pavilion by Chinese sculptor Han Meilin.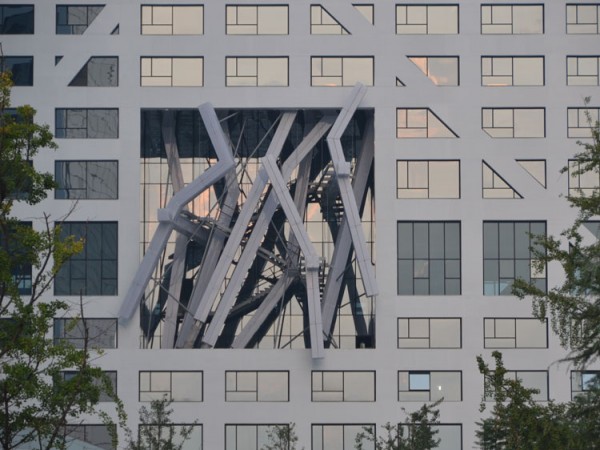 Each of the three central plazas includes a time-themed water garden (Fountain of the Chinese Calendar Year, Fountain of Twelve Months, and Fountain of Thirty Days). The recycled water runs across underwater skylights that form the roof of the central shopping mall. In the gardens, natural grasses and lily pads create a natural cooling effect and help filter the reused greywater and collected rainwater.
Using the concept of "micro-urbanism," the designers added some human-sized scale to the site by including double-fronted shops that open to the street and to the interior the shopping center.