For some people, a 250-square-foot room may seem like a barely tolerable jail cell. For ultra-hip Manhattan residents, it's the size of what may become the hottest, cutest new apartments on the market.
On Tuesday, New York City Mayor Michael Bloomberg announced that the "My Micro NY" design was the winner of the adAPT NYC program, a six-month competition to find the most innovative design for tiny apartments that would be feasible living spaces under a proposed zoning change that would allow for a smaller minimum apartment size. The winner was chosen from a field of 33 submissions, the Mayor said.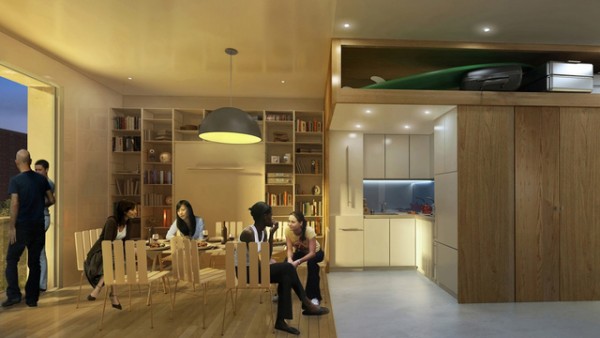 Conceived by the nARCHITECTS firm, Monadnock Development LLC, and the nonprofit Actors Fund Housing Development Corp., the winning My Micro NY proposal involves the stacking of 55 prefabricated "micro-units," measuring between 250 and 370 square feet each, into a multistory tower. Once built, in the borough's Kips Bay neighborhood, the project would become the first apartment building in New York to be built entirely of prefab modular units.
Each micro-unit in the plan would consist of two basic spaces: an open "canvas" area, to be used as a combination bedroom/family room, and the "toolbox" area, containing the 70-square-foot kitchen, plus the bathroom, shower, closet and a small horizontal storage unit near the ceiling. The units would be built by Capsys Corp. at the Brooklyn Navy Yard, shipped across the East River and welded in place on the tower site.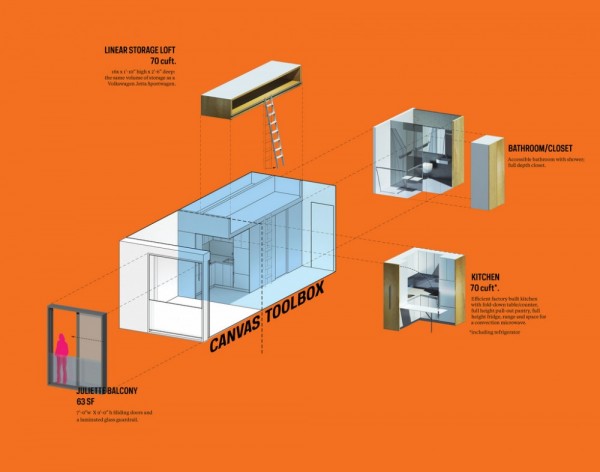 The project was created as an attempt to find more housing space for the more than 1.6 million residents who live on the highly desirable 23-square-miles of real estate in the island of Manhattan. Under the current zoning laws that were enacted a century ago to prevent the squalor of crowded tenement buildings, no studio apartment in New York can be smaller than 400 square feet.
Mayor Bloomberg, however wants to increase the city's density by waiving the size requirement if a sustainable design can be made for a small unit that meets all other city codes. "While there are about 1.2 million one- and two-person households in the city, there are only about 1 million studio and one-bedroom apartments," the Mayor said during the contest announcement. "Addressing this challenge requires us to think outside the box, and as it were, outside the current zoning regulations."
According to the Mayor's office, 22 of these micro-units will be set aside for low- to middle-income residents with lower-than-market rental rates — perhaps as low as $940 per month — which will be made available to applicants via a lottery system. The rest will be available at regular market prices.