If the first month is any indication, 2013 is shaping up to be a banner year for sustainable architecture in college campuses across the United States. In January alone, dozens of laboratories, dorms, classrooms and administration buildings have earned LEED certifications. Some have been around for years, some are just opening their doors, but all have recently earned various seals of approval from the U.S. Green Building Council.
Here, in no particular order, are 10 university and community college green buildings projects that made the grade with LEED certifications in these first few weeks of 2013. Let's hope the kids learn something from these green hallways.
1. Mesa College, Student Services Center (Gold & Silver)—San Diego, Calif.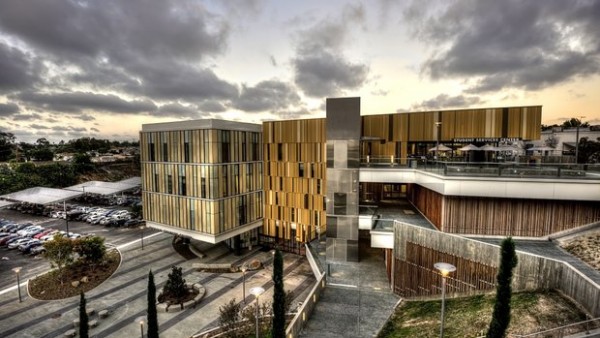 In San Diego, Mesa College's Students Services Center, a $45.8 million, 85,000-square-foot project was recently awarded LEED Gold certification, while the school's $22.5 million, 38,500-square-foot Continuing Education campus earned LEED Silver.
According to the San Diego Community College District, the Student Services Center uses 40 percent less water inside the building, compared to other comparably sized structures that meet conventional building codes. The center also plans to reduce irrigation of its landscaping by 50 percent and use 35 percent less electricity through more efficient lighting fixtures. To date, the San Diego district has received LEED certification on 14 school buildings so far and hopes to receive certification on a total of 41.
2. Rice University, Baker College (Silver)—Houston, Texas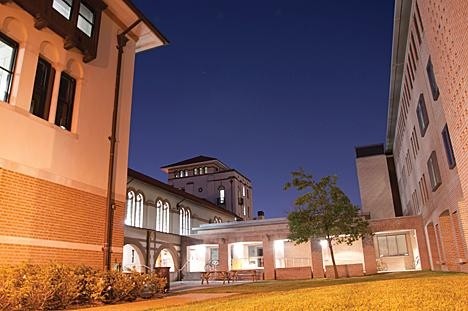 The new Baker College wing at Rice University was completed in 2012, but recently earned a LEED Silver designation. The project included a completely renovated kitchen, cafeteria and residential building. The new building includes a green roof, which grows produce for the students and minimizes runoff. The new Baker Kitchen has also set up a "farm-to-fork-to-farm" process in which the kitchen buys produce from a local farmer and sends back scraps to the farm for use as compost. During construction, nearly 90 percent of all waste was collected and recycled, totaling more than 2,100 cubic yards that were diverted from the landfill.
3. Western Michigan University (Silver & Basic)—Kalamazoo, Mich.

Six Western Michigan University buildings were awarded LEED certifications for energy and environmental design, including the new Chemistry Building, which earned LEED Silver status for features that include an underground service tunnel to preserve green space around the building. The four buildings that make up the Western View, Phase I, project all met basic LEED certification standards for New Construction with Brown Hall earned a LEED cert for Existing Buildings.
Green features include computer-controlled irrigation system, water-efficient fixtures, energy-efficient classroom lighting, bike racks, low-VOC-emitting paints, thermal insulation and the use of daylight to lower energy consumption. Along with the College of Health and Human Services, which earned a LEED Gold designation for existing buildings in 2009, the university now has a total of seven LEED-certified facilities. Six more buildings are also currently going through the certification process with the USGBC, WMU said in a press release.
4. Thomas Jefferson School of Law (Gold)—San Diego, Calif.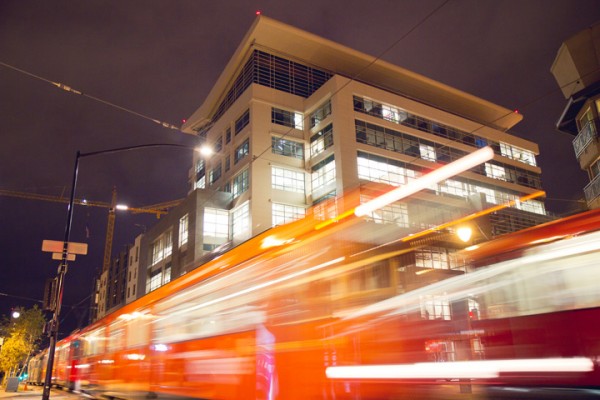 San Diego's new Thomas Jefferson School of Law, which opened in 2011, recently received a LEED Gold certification. Some of the key green features include its 49 kW photovoltaic energy system on the main roof (producing enough electricity to power up to 32 homes), a more efficient server network, a cool roof membrane to reflect heat from the sun, and a foundation made of Hycrete, a concrete admixture that turns regular concrete into a waterproof barrier.
The building is designed to conserve about 20 percent less water than conventional buildings of its size, landscape that requires 50 percent less irrigation. In addition, the building has an 85-foot green wall on the fifth floor terrace.
5. University of Wyoming, Bim Kendall House (Gold)—Laramie, Wyo.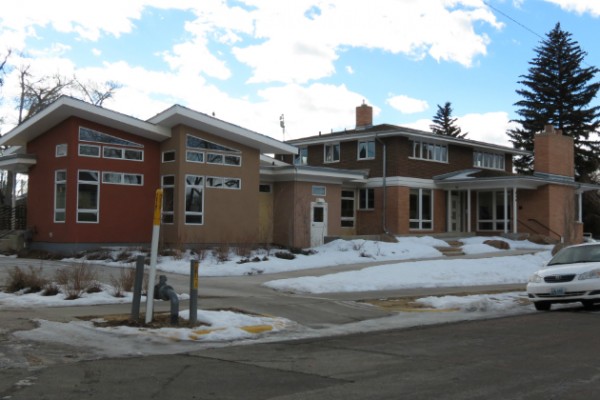 The University of Wyoming's Bim Kendall House, home of the Haub School of Environment and Natural Resources, has earned LEED Gold recognition for Existing Buildings for its efficient use of energy, water and renewable building materials. Features include rooftop photovoltaic panels; use of natural daylight; green cleaning supplies; low-VOC paints, carpets and adhesives; and energy conservation through efficient motors and lighting.
The building earned additional points for creating a healthy workspace and for incorporating educational and outreach components, the school said, with students participated in the planning of sustainable features. Also, because the building incorporated a renovation of an existing structure rather than relying on new construction, it made better use of existing materials and thus a smaller impact on the environment.
6. Arizona State University, Science and Technology IV Building (Gold)—Tempe, Ariz.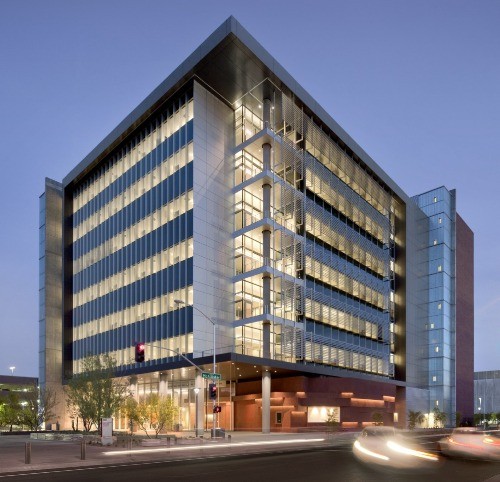 The new Interdisciplinary Science and Technology IV building at Arizona State University (ASU) has received LEED Gold certification for its design. The seven story, 293,000-square-foot building—the largest research facility in ASU history—opened in September 2012 and will be 40 percent more energy-efficient compared to a traditional laboratory design, the school said. A multiplexed centralized sensing system designed by Aircuity continually monitors indoor environment parameters, lowering the ventilation when the air is clean and increasing fresh air when an issue has been detected.
7. Bradley University, Hayden-Clark Alumni Center (Silver)—Peoria, Ill.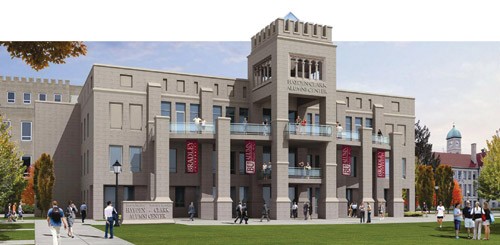 Bradley University's $12 million Hayden-Clark Alumni Center has become the first new building in the city of Peoria, Ill., to achieve LEED Silver status. Sustainable concepts in the design will help make the new 40,000-square-foot building at least 20 percent more energy efficient than a conventional building and reduce water consumption by more than 30 percent. Many locally sourced recycled materials were used in construction of the structure, which includes strategic use of abundant daylight throughout the space to decrease energy usage.
Another Bradley campus building, Westlake Hall, underwent a renovation and expansion last fall and is expected to qualify for LEED Gold standards via high-efficiency lighting and HVAC systems, low-flow toilets, a heat recovery unit, and building automation controls.
8. Montana State University, Cooley Laboratory (Gold)—Bozeman, Mont.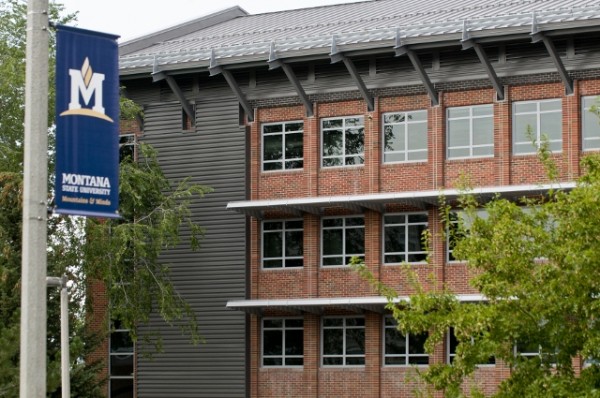 The newly renovated Cooley Laboratory, a 52-year-old biomedical research facility at Montana State University, recently earned LEED Gold certification for Existing Buildings. Over a two-year period, Cooley Laboratory was gutted and updated with green features, such as the use of durable, locally sourced materials; reflective cool-roof materials to minimize the heat island effect; water-efficient landscaping; and a new computer-controlled HVAC system. More than 90 percent of the wood used in the $15 million renovation came from certified sustainable forests. The new Cooley Laboratory will be inaugurated on April 15.
9. Buena Vista University, Estelle Siebens Science Center (Gold)—Storm Lake, Iowa

The eight-year-old Estelle Siebens Science Center at Buena Vista University (BVU) has earned LEED Gold status for Existing Buildings by installing high-efficiency glass, automated building maintenance controls, more efficient lighting, and separate metering for irrigation and domestic water.
During a waste stream audit, the science center discovered that 40 percent of what was being discarded could be recycled, leading to changes in how refuse is collected across campus. The campus has now initiated a cleaning policy that uses environmentally friendly chemicals, reduced outside lawn and sidewalk chemical use, and added a natural grass space at BVU's athletic practice facility.
10. University of Connecticut, Laurel Hall (Gold)—Storrs, Conn.
Laurel Hall, a 68,000-square-foot social science and humanities classroom building, has recently become the first University of Connecticut structure to attain LEED Gold certification. The $26 million facility opened in 2011 with slate flooring, bamboo millwork, and a 6,500-square-foot green roof. A bioswale and permeable paving materials help improve stormwater runoff by removing silt and pollution. In addition, nearly a third of the building materials were acquired from sources within 500 miles of the project site, and 23 percent of the building materials contain recycled content. The project also diverted 884 tons of construction waste from landfills.
UConn currently has two other buildings with LEED Silver status and is applying for LEED certs for eight other buildings.