One of the difficulties of designing a solar-heated building is maintaining comfort levels in different parts of the structure as the sun moves through the sky. Then there is the issue of various rooms requiring more windows than others, thereby needing more shade. In Japan, the architecture firm Kengo Kuma and Associates addressed these concerns by essentially putting 12 different roofs on the same building.
In their design for Teikyo University's Elementary School in Tokyo, the designers lined up the classrooms and common areas along a linear axis and joined them under a long roof, covering 86,760 square feet. To ensure that the roof-mounted solar heating system collects the correct amount of energy to push warm air through the classroom floors in the winter, each south-facing roof is sloped at a slightly different angle.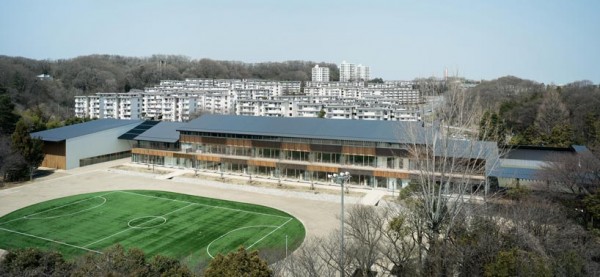 The varying roof angles also provide different shading options for the teachers and students. Longer eaves are used to shade open spaces and rooms that have more windows (like common areas) and short eaves for those with fewer windows (like classrooms). The school's roof also acts as a rainwater collection conduit, channeling runoff to a row of trees planted in a small swale near the science rooms.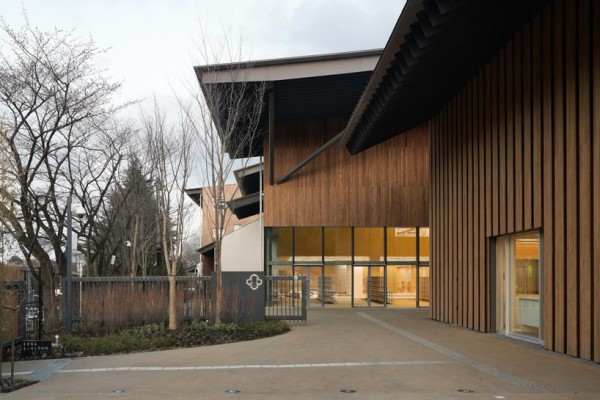 The three-story structure is made mostly of heat-treated cedar wood, with alternating wood stains used to denote each classroom and common area. On the exterior, shade is also provided by louvers in strategic areas and yamato-bari, which Kengo Kuma describes as wood panels that slightly overlap each other at the sides.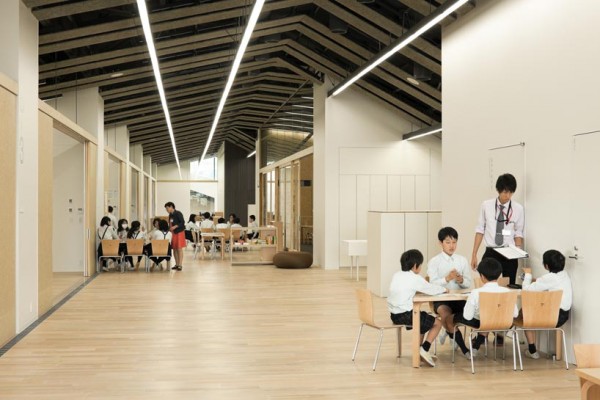 Inside, the focal point is the library and media center, which extends from the ground floor all the way to the roof on the third floor, providing easy access from each level. On the second and third levels, the cathedral ceiling running the length of the building can be seen from the common areas and glassed-in classrooms.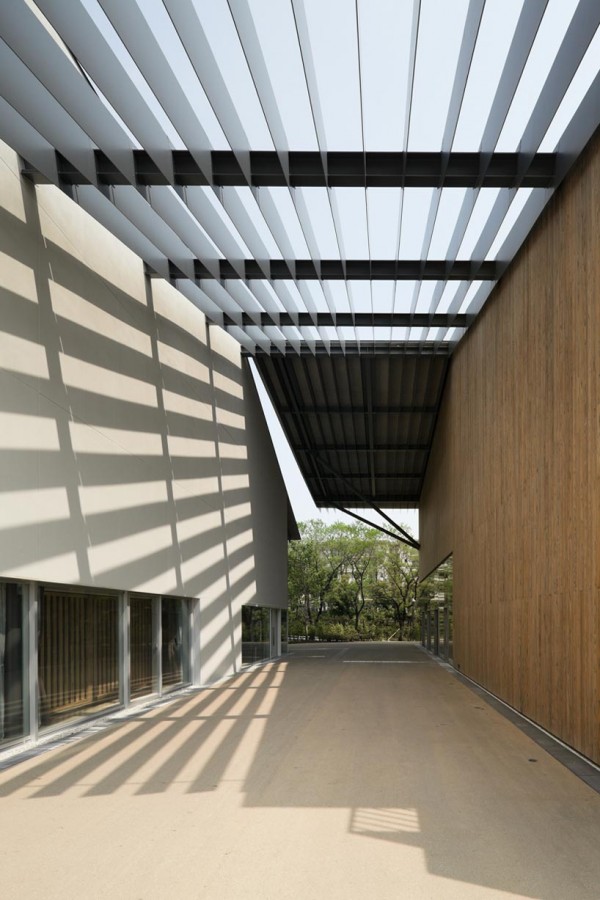 Much of the school includes open areas to foster student-teacher interaction. Many of the interior walls are retractable and made from recycled materials, such as ground-up straw, rush (a marsh plant) and poplar wood, which students use as bulletin boards.