It's important for every politician to have a strong platform when running for office. And if they make it all the way to the White House, it helps if they stand on another platform that is not only sturdy but sustainable and recyclable.
At today's second inauguration of President Obama, the 10,000-square-foot stage on which he stood to give his address in front of the U.S. Capitol was built entirely out of lumber that was certified by the Sustainable Forestry Initiative (SFI), according to an item on the Woodworking Network. The SFI standard claims that the wood was harvested under methods that protect water quality, biodiversity and habitat for threatened wildlife. (Update: The SFI label, however, has been called into question as a reliable indicator of sustainable forestry, with many environmental groups claiming that SFI allows for clearcutting and is not nearly as stringent as the standards set by the Forest Stewardship Council. See comments below regarding the controversy.)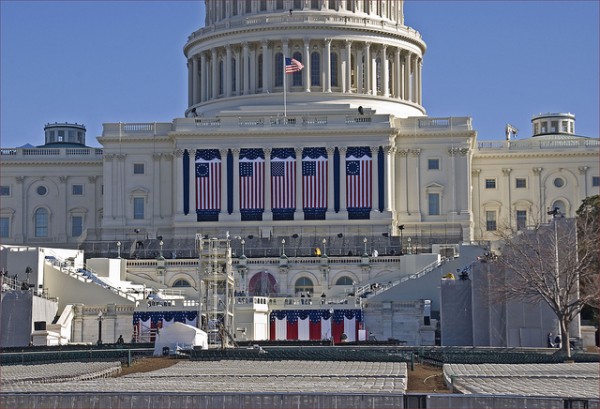 Wood products company Sierra Pacific Industries provided the lumber for the inaugural platform, which was only used for a few hours but held more than 1,600 of the most powerful VIPs in the country. Guests on the stage included members of the U.S. Congress, all nine Supreme Court Justices, the President's Cabinet, former Presidents, the Joint Chiefs of Staff, several state governors and foreign diplomats, and the relatives of the President and Vice President — not to mention Beyonce, Jay-Z, James Taylor and Kelly Clarkson.
The structural dimension lumber that held up this precious cargo, Sierra Pacific says, was made from kiln-dried Douglas fir, supplied by Grasmick Lumber, a contractor lumber yard in Baltimore that has supplied the platform lumber for the past three inaugurations.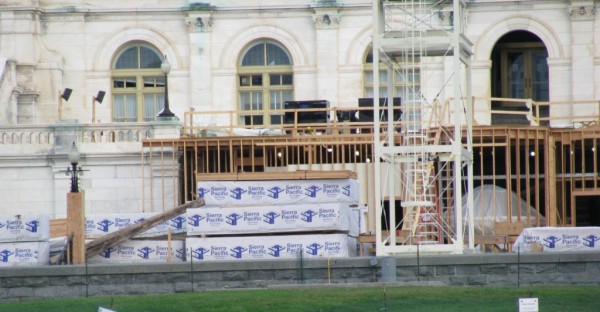 Throwing a party that will attract more than half a million people, many of whom will fly in from all over the world and dine on haute cuisine at lavish parties, can almost never be called green. But the District of Columbia government, which has budgeted about $6.5 million on the festivities, is at least making some efforts to reduce its carbon footprint compared with previous inauguration weekends.
Other than the stage on Capitol Hill, most of the other green aspects of the inauguration appear to be in the form of waste reduction, recycling and diversion plans, according to a report from Triple Pundit.
Some of the "low-hanging fruit" that will be addressed, the article said, will be the extensive recycling efforts at the 2013 Green Inaugural Ball, hosted by National Wildlife Federation and the Newseum. The ball, organizers say, will only use compostable serving materials or reusable items such as glass and flatware. Wolfgang Puck Caterers will recycle its used frying oil into biofuels, expired light bulbs will be recovered for their metal and glass, and all food scraps will be composted for use on urban farms in the D.C. area.