The energy-use debate about super-insulating existing structures versus building new ones recently got a little more heated in Boston with the completion of the Deep Energy Retrofit of the Castle Square apartment complex. Last month, the project, first announced in June 2011, earned a LEED Platinum for Multifamily Homes certification by implementing a few non-disruptive upgrades at a fraction of the cost of new construction.
The 540,000-sqaure-foot, four-tower, affordable housing complex was built in 1965 in Boston's South End neighborhood with scant attention paid to proper insulation against New England's typical winter/summer weather extremes. Today, a new 5-inch-thick, four-layer shell of thermal materials with a rating of R-40 is expected to reduce heating and hot water costs by as much as 73 percent, according to the building's owners, Castle Square Tenants Organization and development firm WinnDevelopment.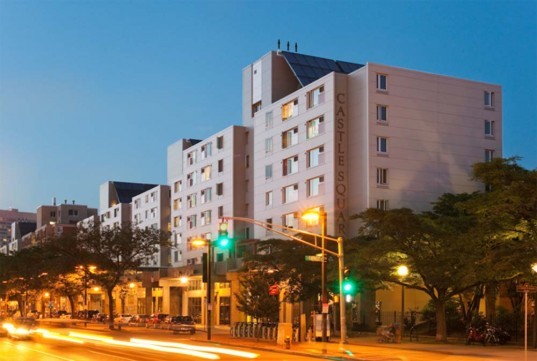 A Deep Energy Retrofit, the Castle Square site says, must achieve an energy savings of at least 50 percent compared to the operational costs of the original building. The building owners hope to far exceed this by making sure heat from the building's high-efficiency boilers does not escape through the usual trouble areas, such as windows, doorways and thermal bridges between building materials.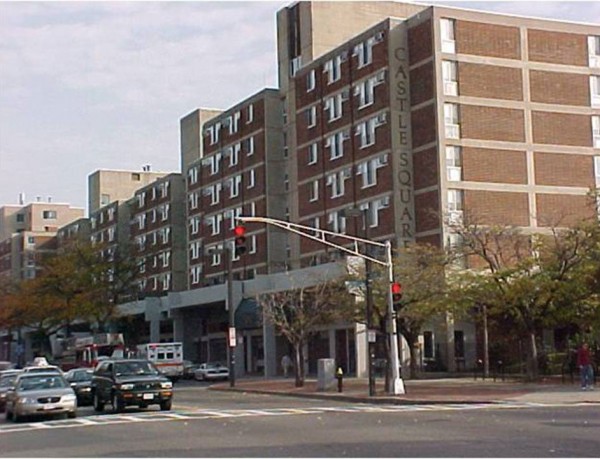 The insulating shell is a Kingspan metal panelized system, which begins with a coat of liquid-applied air and water control membrane applied to the building's original brick exterior. Next, a mineral-fiber air flow suppression layer is added, followed by the 5-inch insulation panels. These panels come with a metal shell to protect the insulation from the outside elements. The conventional windows were also replaced with high-efficiency windows that were subject to extensive air sealing.
A schematic of the four layers of super-insulation material that makes up the Castle Square shell. Image via Building Science Corp.
To top it off, the tower retrofits include cool roof technology, with reflective white coatings that keep the sun's rays from penetrating the roofing material in the hot Boston summers. Also, each of the four towers are equipped with their own 756-square-foot solar panels to produce hot water for the low- to middle-income tenants. The 192 units that were subject to the retrofit also received high-efficiency Energy Star appliance upgrades, LED and CFL lighting, and low-VOC paints.
These layers and systems, together, raise the thermal resistance value of the original brick wall more than tenfold—from R-3 to R-40. According to the owners, the post-retrofit heating and hot water costs should drop from $194,000 to just $50,000 per year, while electricity costs should plummet from $397,000 to $181,000.