Editor's note: Updates have been added at the bottom of this story since its original publication.
Within the next few days, the Sunrise Powerlink, the 500,000-volt transmission line that stretches 117 miles through the desert and over the mountains from the Imperial Valley to San Diego, built at a cost of $1.9 billion, could crackle with renewable energy for the first time.
No, really, it will, says Pattern Energy, the company developing the 112-turbine, 265-megawatt capacity Ocotillo wind energy project that will hook into the big transmission line and send power to San Diego Gas & Electric customers. A company spokesman called suggestions by opponents that the site has inadequate wind "absolutely absurd," and a rather basic principle of wind seems to be on the company's side on this dispute.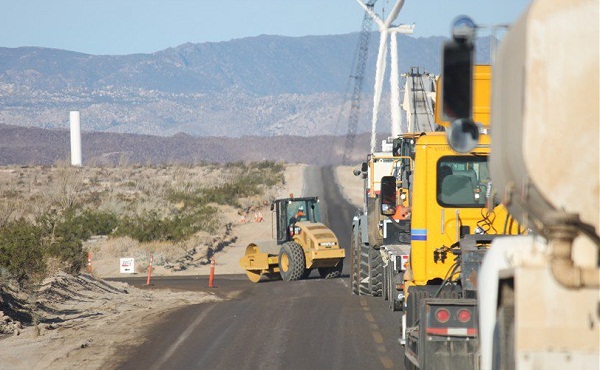 The local wind power foes have taken to posting their own wind measurements to a Facebook page called Ocotillo Wind Turbine Destruction. A sample post: "8.0 mph wind speed in Ocotillo at 10:00 pm, 12/03/12."
Just one potential problem with that: Ground level wind measurements are practically meaningless when it comes to turbines whose tips will spin more than 400 feet above ground.
"There's a reason wind turbines are put on a tower, way up in the air," Pattern spokesman Matt Dallas told EarthTechling.
That reason is that the wind almost inevitably blows stronger farther above ground. As wind expert Paul Gipe writes in Wind Energy Basics, "Because obstructions near the ground disrupt the flow of the wind, wind speeds increase with height." This difference between ground level wind and wind higher up is so important that a Midwest wind installer quoted by Gipe says the three biggest problems with small-scale wind projects are: "1. Too short a tower, 2. Too short a tower, and 3. Too short a tower."
Says Dallas: "It's nonsensical for our investors that we would build at a site that wasn't a great wind resources. That's why we did three years of meteorological studies on this site, and it's why we are 100 percent confident that this project will deliver clean power that will be a benefit to everyone."
A San Diego Union-Tribune story published earlier this week quoted a Pattern project manager who seemed to sound slightly less confident –  "In the end, we are taking a risk that there will be wind here, before people purchase it and we can sell it" – but reporter Morgan Lee said the statement wasn't meant to imply that the company is uncertain of the wind resource.
"The point there was that Pattern has money riding on the site being a good wind resource," so it wouldn't have made sense to build there unless they believed the wind was adequate, Lee told EarthTechling. "Whether it is or isn't is something that time will tell," Lee said, "but Pattern did the studies and they seem to believe it is."
Pattern said some of the turbines will begin feeding energy onto the Sunrise Powerlink this week and that before the end of the year, somewhere in the neighborhood of 90 of the 112 turbines will be in service, thus qualifying for the expiring production tax credit for wind.
Dec. 12, 2012, update: According to Pattern Energy, the Ocotillo wind power plant was not in commercial operation. "The turbines are in the testing phase and energization phase, so technicians are currently running a number of tests on them. We'll likely make an announcement later this month once the project is commercially operational," Pattern spokesman Matt Dallas told EarthTechling.
Jan 9, 2013, update: Pattern announced 94 turbines had been put into operation in December, and that the remaining 18 turbines will be installed this spring.