Historically, one of the greatest barriers to the adoption of solar energy systems in green buildings has been the high up-front costs. According to a recent study by the Department of Energy's Lawrence Berkeley National Laboratory, this hurdle is becoming easier to clear as installation costs have dropped substantially in 2011 and the first half of 2012. However, many of these cost savings have been offset by a reduction in government subsidies that the solar industry had been relying on for the last decade.
The Berkeley Lab's fifth annual Tracking the Sun report found that the overall costs of installing study solar photovoltaic (PV) installations in residential and commercial structures dropped by 11 to 14 percent in 2011, compared to the year before, and an additional 3 to 7 percent in the first six months on 2012. Most of the cost savings, the study found, came from falling prices for PV modules, but other factors include a 30 percent plunge in "non-module" costs, such as labor, marketing and overhead, from 1998 to 2011.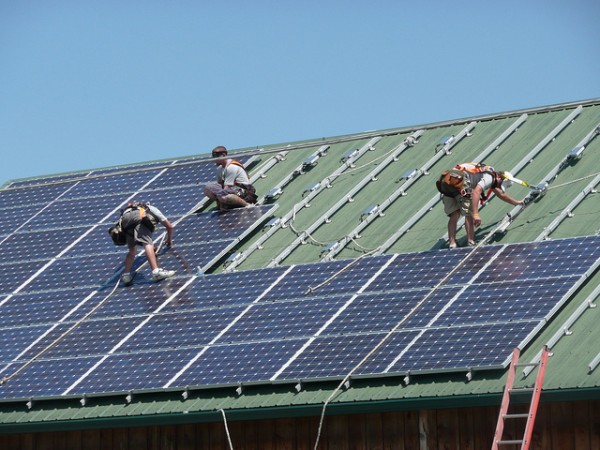 Report co-author Ryan Wiser of Berkeley Lab's Environmental Energy Technologies Division wrote that the non-module costs were especially significant, "as these costs can be most readily influenced by local, state, and national policies aimed at accelerating deployment and removing market barriers."
The median installed price of PV systems installed in 2011 was $6.10/W for residential and small commercial systems smaller than 10 kW in size and $4.90/W for larger commercial systems producing 100 kW or more.  Utility-grade systems of 2,000 kW or more in size averaged $3.40/W in 2011.
At the same time costs were coming down, government incentives for the installation of PV systems were beginning to disappear, the study said. In the last 10 year period, federal, state and local incentives have been slashed by roughly 80 percent; incentives between 2010 and 2011 alone fell by 21 to 43 percent, according to the report.
Part of the reason for the drop in government assistance was a change in the way the funds were awarded in certain areas, the study explained. Direct cash incentives for solar installation in some states were replaced with a market system for solar renewable energy certificates, which decreased in value dramatically during the recession.
PV system prices varied widely depending on location, the type of PV technology used and the size of the installation, the study found.  For instance, residential PV systems installed in new homes were significantly lower than the price of similarly sized systems that had been added as retrofits to existing homes. Also, integrated PV systems were generally more expensive than rack-mounted systems, and systems installed at tax-exempt customer sites cost more than those installed at residential and for-profit commercial sites.
The Berkeley Lab report analyzed more than 150,000 residential, commercial and utility-sector PV systems installed between 1998 and 2011 across 27 states. These systems, the report found, represent about three quarters of all grid-connected PV capacity in the United States.