Whether there's much of a market for giant wind turbine towers in the United States in the years ahead is, uh, up in the air, thanks to uncertainty about the production tax credit. But if there is, the cost of sourcing those towers from Vietnam or China could be much higher than it used to be.
Nearing the end of a trade claim brought by U.S. manufacturers, the Commerce Department on Tuesday [PDF] set import duties totaling well over 50 percent for several specific Chinese companies found to have sold their products in the U.S. below cost and to have benefited from unfair subsidies.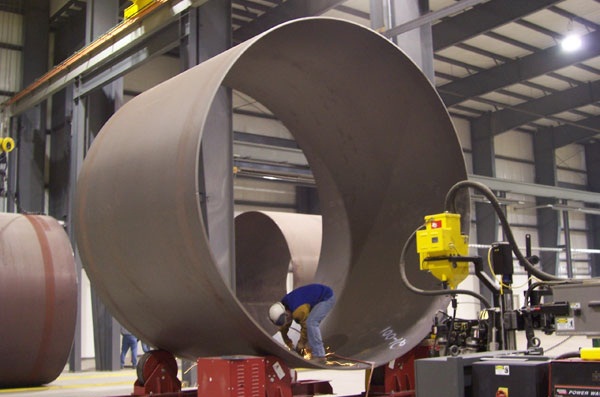 Meanwhile, the trade group that initiated the recently concluded solar trade fight with China said new data showed imports into the U.S. have slowed dramatically [DOC].
But back to the wind tower news: One of the companies operating out of China, CS Wind, also saw its Vietnamese unit hit with an anti-dumping duty of 51.5 percent, while other producers from Vietnam were assessed a 58.49 percent anti-dumping duty.
The U.S. International Trade Commission, which announced the rulings, said $222 million worth of wind towers came to the U.S. in 2011 from China, and $78.8 million were imported from Vietnam.
The U.S. ITC can lock the duties into place with what is known as a "material injury determination" when it votes in late January next year.
The trade case was brought by four Midwest companies – Trinity Structural Towers, DMI Industries, Katana Summit and Broadwind Energy – allied as the Wind Tower Trade Coalition.
"Over the last two years, in a period of peak demand, the U.S. industry should have been profitable," said Alan H. Price, from the law firm Wiley Rein, which is representing the U.S. tower makers. "Instead, due to the surge in dumped and subsidized imports, the industry lost market share and saw its profits collapse."
While the duties on Chinese and Vietnamese towers would seemingly help the struggling tower makers, they could become moot if Congress doesn't extend the 2.2 cents/kilowatt-hour tax credit wind power producers get. Orders have been drying up for months, and in September, one of the companies that brought the trade claim, Katana Summit, which employs 214 people in Columbus, Neb., and 79 in Ephrata, Wash., said it was seeking a buyer, and if one didn't pop up, it would shut down operations.
The wind tower case mirrors the solar trade battle that recently concluded with stiff duties on Chinese crystalline silicon photovoltaics. On that front, the Coalition for American Solar Manufacturing noted on Tuesday that Chinese imports fell from $112.7 million in September to $75 million in October. In October 2011, the figure was $213 million.
"Our industry's struggle to counter the Chinese government's drive to illegally dominate the U.S. solar market is gaining ground," Gordon Brinser, president of Oregon-based SolarWorld Industries America, said in a statement.  "Our mission was always to prevent China's government-sponsored, anti-competitive market distortions from derailing the healthy, competitive and clean development of the world solar industry.  We are encouraged to see some progress in restoring fairness and competition to this market."
Update: On Jan. 18, the U.S International Trade Commission voted 3-2 to move ahead with the duties on Chinese and Vietnamese wind towers.