On a blustery, wet hillside in North Plains, Ore., construction workers and designers are making progress on the construction of one of the most efficient home designs in the country. Called the Pumpkin Ridge Passive House, the structure is designed with tough standards for insulation and thermal efficiency, and is expected to significantly reduce energy bills by as much as 50 percent, compared to a conventional home.
The Pumpkin Ridge house—being built by Hammer & Hand, based in nearby Portland, Ore., and designed by Scott Edwards Architecture—is one of six homes across the Pacific Northwest to be featured by the  Northwest Energy Star program as demonstrations of how well a "super-efficient home" can perform.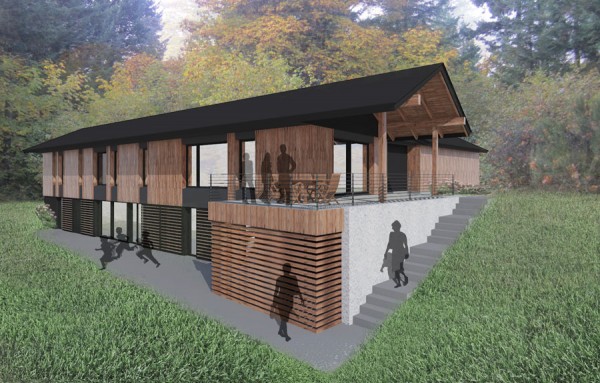 To achieve these results, Pumpkin Ridge is built around several core passive house principles, the chief being the use of "super-insulation" to eliminate thermal bridges, or places where poor insulators can carry heat through the home's thermal envelope. Pumpkin Ridge includes a layer of foam insulation as thick as six inches that wraps entirely around the home, from the bottom of the foundation to the peak of the roof.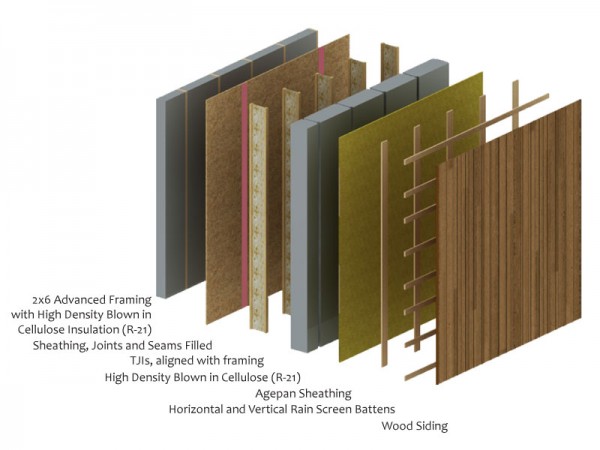 Other key principles in the passive design is to make the house as airtight as possible by sealing all gaps in windows and doors, ventilating the house with energy recovery and optimizing passive solar heating gains. The windows in the house are designed to maximize the amount of sun it receives in the winter and includes enough shading to keep it cool in the summer.
Image via Hammer & Hands
Speaking on a segment for KGW-TV's "Greater Portland Today" program, Sam Hagerman, president of Hammer & Hand, described how the cost of building the 3,500-square-foot single-family residence will have roughly the same monthly cost of a conventional home, once mortgage, taxes and insurance are included. Once completed, however, the indoor air quality will be improved in a passive house and annual heating and cooling bills will plummet to less than $50. Again, that's $50 per year, not per month.
Currently, the foundation and structural framing on the house is just about complete. On the Hammer & Hands blog, three new videos were uploaded on Dec. 20, showing the recent progress. In the videos, the project's lead carpenter, Val Darrah, describes the details of the wall assembly and the importance of getting a good seal on all joints to maintain the integrity of the insulating air barrier within the walls. All joints are covered, he says, with a liquid sealant applied with a caulking gun, which provides a more airtight bond than standard tape and produces much less waste
Completion of the Pumpkin Ridge house is expected in 2013. To keep tabs on the progress of this and other passive house projects, stayed tuned to the Field Notes section of the Hammer & Hands blog for future videos and updates.