The state of Maine might be dragging its feet on a floating wind turbine demonstration project with private developer Statoil, but that's not slowing down the University of Maine, which has buoyant ambitions of its own.
In recent days, the Structures and Composites Center at the university erected a test turbine on campus – that's on terra firma – in preparation for floating a prototype turbine more than 10 miles off the coast in just a few months.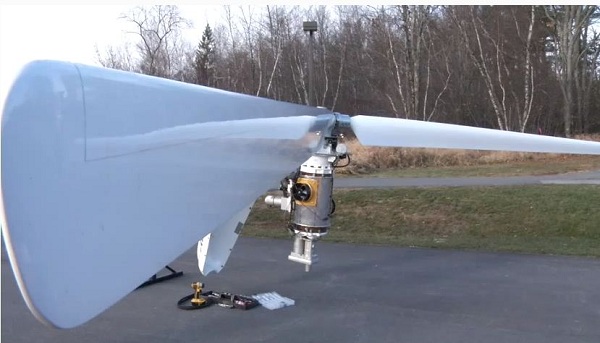 This is a 1:8 scale model of the 500-plus-foot-tall 6-megawatt turbines that university researchers, working in a consortium called DeepCwind, aim to have even farther out at sea in a few years. The dryland demo is being undertaken to test a data acquisition system installed on the turbine that will gauge and record wind and other environmental conditions on the water.
An make no mistake, the project is prepared for a world of tumult out there on the water, designing the turbine to withstand winds up to 150 mph and waves more than 60 feet high.
While the floating turbines would shut down in crazy conditions like that, strong, consistent winds are exactly what researchers are after in eying way-offshore sites (a side-benefit: the potential for conflicts with other ocean interests would also be minimized).
Consider: When Stanford researchers mapped out a strategy for powering the East Coast with offshore wind, they put two thirds of the sites out at 200 meters water depth. Substructures aren't feasible in deep seas like that, thus the search for a floating solution.
Here's how the Maine team sees things unfolding for the design they call VolturnUS, which they say has already been tested in the lab and at a 1:50 scale:
Following a successful offshore test next year, a small 12-megawatt demonstration project consisting of two, 6-megawatt turbines is proposed for construction in 2015–17. A commercial-scale park, expected to be in the 500-megawatt range, will have more than 80 turbines in a space of 4 miles by 8 miles, and will be positioned more than 20 miles off shore, beyond the horizon.
The Maine team figures that once it is building and installing turbines at scale, their turbines can produce electricity at 10 cents per kilowatt-hour without subsidies.
As for that Statoil demonstration project, the company wants to build a four-turbine, 12-megawatt project in an area covering about 22 square miles off Boothbay Harbor, about 50 miles up the Maine Coast (as the seagull flies) from Portland.
Statoil's plan came in answer to a 2010 Maine PUC request for proposals, set in motion by the state's 2010 Ocean Energy Act [PDF], to build "deep-water offshore wind energy" projects "no less than 10 nautical miles" off the state's famous coast. However, when it came time to ink a deal this past fall, the PUC didn't like the terms Statoil was offering. It didn't reject the offer, but is looking for Statoil to come back with something better.
The Obama administration is on board with the idea of floating turbines. Back in 2009, when stimulus money was flowing, it announced funding of up to $8 million to the University of Maine for work on the floating turbine prototypes.