Tree house or house tree? It's hard to categorize a new Indiana food kiosk that was built almost entirely from one tree—mostly because the tree is still attached to it.
Called "Chop Stick," the one-of-a-kind structure is, at once, a work of art, a functional green building, a science exhibit, a recreation area and a respectful lesson in resource conservation and life cycle analysis.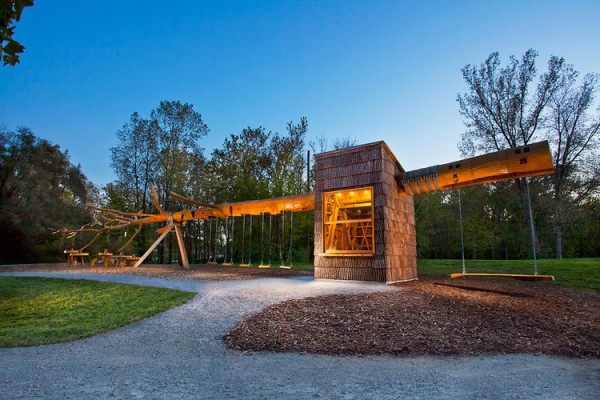 Chop Stick is the brainchild of a Swedish architecture firm Visiondivision, which was commissioned to build a concession stand for the 100 Acres: Virginia B. Fairbanks Art & Nature Park adjacent to the Indianapolis Museum of Art. In true green building fashion, the Visiondivision team made sure to use as much of the tree as possible in the finished product, minus the roots.
The team began with a 100-foot-tall yellow poplar, the state tree of Indiana, and set about stripping the tree of bark and cutting pieces of lumber for the kiosk. The tricky part, however, was to make strategic cuts to keep the essential structure of the tree intact so it could be used as a massive crossbeam and a support for swing sets on either end. All along the trunk, which is suspended horizontally, visitors can see the exact spots where wood was gouged out to create the small concession stand it now supports.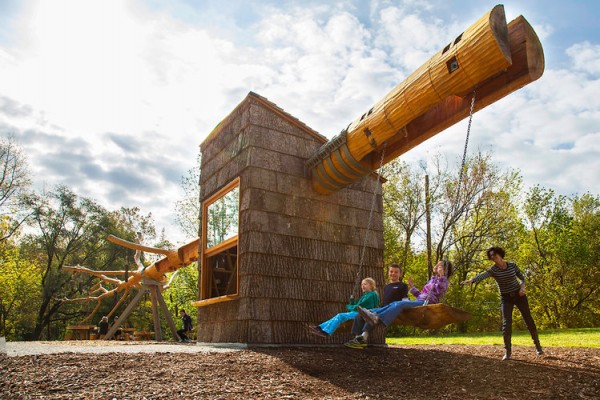 Visiondivision said the design was "based on the universal notion that you need to sacrifice something in order to make something new." As the design team was quoted as saying on Fast Company's co.design site, "Normally, we don't think about where things are coming from in our daily life, and we really wanted to make it obvious. Paper, bricks, mobile phones, whatever they might be, don't just pop up by themselves."
Some parts of the trunk were turned into seats for the swings, structural supports to keep the trunk elevated, pillars and studs for the kiosk, and benches and tables that were placed under the still-existing crown.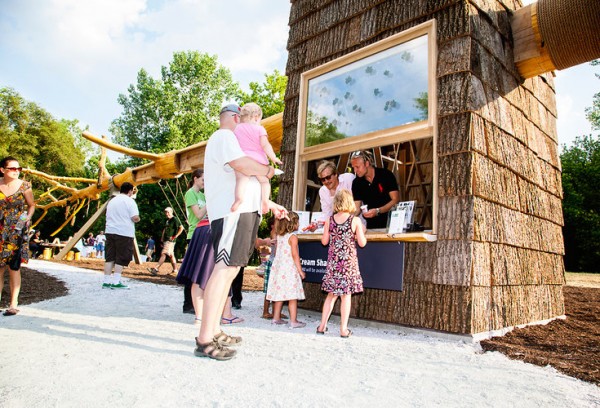 Chop Stick uses much more than just the tree trunk. The bark that was stripped was flattened, dried and cut into natural shingles for the kiosk. Other bark sections were allowed to curl as they dried and were hung from the remaining branches as light fixtures. Some of the leaves were pressed together and turned into ornaments that hang in the concession window. A helpful diagram is also included on the site showing visitors exactly where each piece of the structure came from.
To top it off, Visiondivision even gives visitors a chance to take part of Chop Stick when they leave. While preparing the bark, the team was able to extract and edible yellow poplar syrup, which is sold in the food stand. "You could actually eat a part of the building," the team added.