We've seen office tower smart windows that tint by themselves or become opaque at the push of a button. Why not just drawn the curtains? That's the low-tech sunshade option that has been given a futuristic twist by the Yazdani Studio of Cannon Design in its concept for the planned CJ Cheiljedang Research and Development Center in Seoul, South Korea.
Taking a cue from the simple accordion, Yazdani unveiled their design of a dynamic wraparound metal façade that can mechanically fold in on itself to provide shade depending on the angle of the sun. This enables the Korean biotechnology firm to maintain optimum temperature and natural daylight levels for a fraction of the energy costs.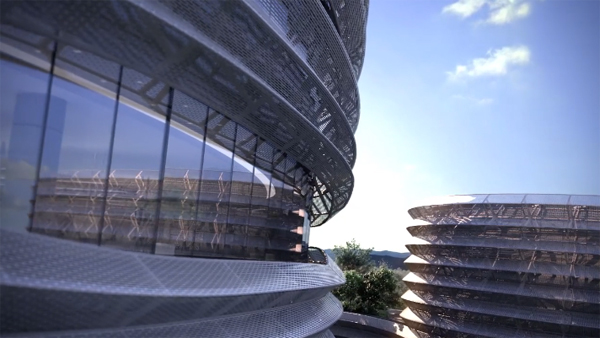 The design, created with 3ds Max software, allows the steel panels of the zig-zag skin to move independently or in unison, in groups of three, so that one side of the building can fully extend the shade in direct morning or afternoon sunlight to eliminate glare while other areas in shadow can remain open. The effect resembles giant ribbons of connected venetian blinds that wrap around the entire complex and ripple in different areas as the sun arcs through the sky.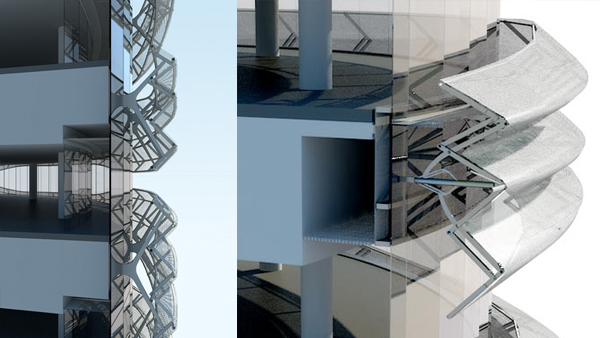 The metal panels on the shade are perforated so that, even fully closed, some natural light could still get through. Then, when the sun is higher in the sky, the scissor actuators under the shades can automatically furl the panels at each floor to still provide shade from direct vertical rays while allowing reflected daylight to flood the office interiors. Most of the work stations and common areas are located near the outer edge of the towers, to maximize the use of natural light, while the lab spaces that require stricter controls are placed deep in the interior.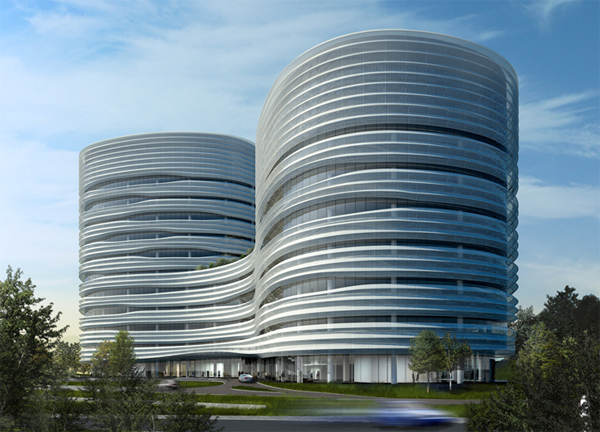 The three oval-shaped towers—inspired, Yazdani says, by CJ Cheiljedang graphic petal logo—will house 1.2 million square feet of office space. This would consolidate most of the company's scattered pharmaceutical and biotechnology R&D facilities into a single complex, thus fostering greater interactivity.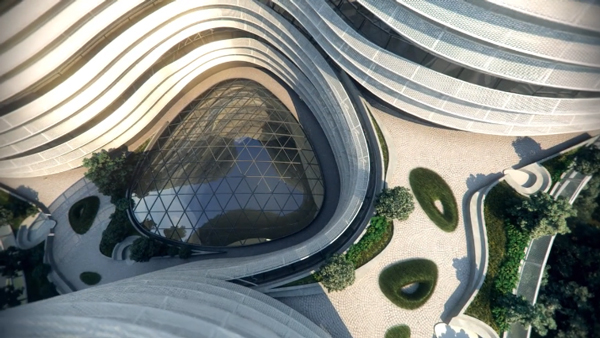 To add to the collaborative atmosphere, the concept includes a five-story glass atrium that connects the towers and provides common areas for employees to interact with each other and exchange ideas. Yazdani also has included plans for a gymnasium, a café, a restaurant, childcare and educational facilities, and rooftop gardens that can be accessed by employees.