When you've got your green building innovation installed in the backyard of U.S. Green Building Council founder David Gottfried, you know you're doing something right. The innovation is the HOG rainwater harvesting system, and the inventor is Australian architect Sally Dominguez.
The American Institute of Architects (AIA) reports that the inspiration for Dominguez's rainwater harvesting system came to her while working on residential infill projects in inner-city Sydney. The long-term water supply of this city, like so many Down Under, is far from secure — there is, after all, a reason that Australia is known worldwide as the front-runners in rainwater harvesting. But despite some innovative large-scale solutions the city has been exploring in recent years, she found that all of the rainwater storage systems available to the individual building owner at the time were designed for rural use. Due to their scale and shape — think wide, round steel tanks with storage capacity running upwards of 1,000 gallons — just weren't appropriate for dense urban areas.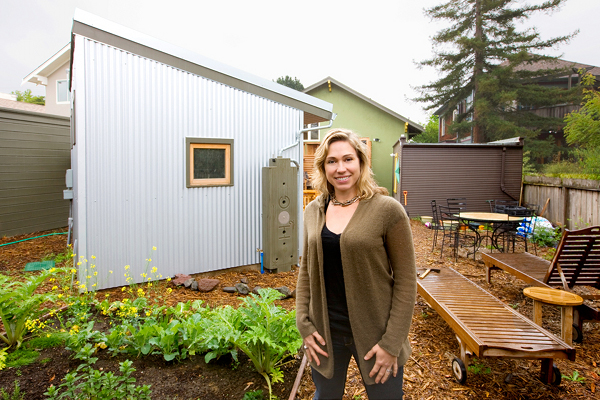 So she designed a water storage system that makes use of spaces that are largely overlooked: underneath floors, inside walls, and along narrow alleys. She solved the problem of how to make flat-walled steel tanks fit in those spaces without bulging with the weight of their water by placing a hole in the middle of the container. In this way, the hole's circular walls act as an inside-out brace (see below).It helped that Dominguez had some prior product development experience, and knew that the manufacturing method known as "rotomolding" (rotational molding) worked well for creating hollow plastics — and might apply equally as well to creating modules that could stand on any of their sides and join conveniently to the next one. Using this method, she created a highly scalable water storage system that can easily link one module to the next while allowing water to flow through them without impediment.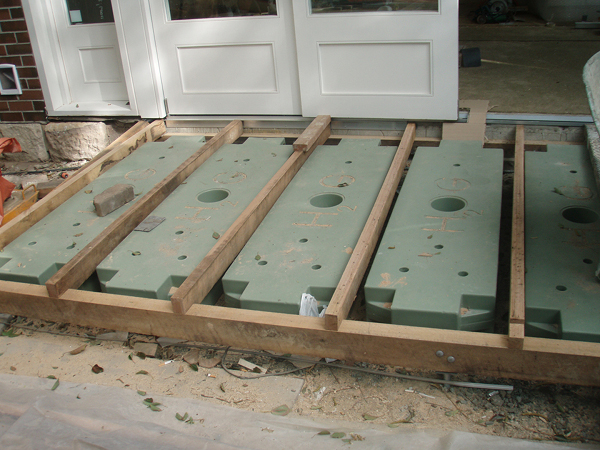 The first Rainwater HOG tank debuted in Australia back in 2005, at a time when rainwater was still considered gray water (i.e., used household water). Thus the name: H2O Grey, or H2OG, or HOG. Now a version of the tank manufactured in the U.S. is available to the U.S. market, where the system has gained widespread popularity among green builders and architects in recent years. (The Rainwater HOG is also catching on in the growing market for such systems in Singapore and Japan.)
Both Dominguez and Rainwater HOG are now based in San Francisco, where her system caught the eye of Jeff King, a local green-building contractor. He made use of Rainwater HOG tanks in a 3.5-foot-high crawlspace in the cellar of his own home. King notes that he could have used a traditional tank storage system, but he would have had to install it first, and then build around it. "The water HOGs gave us the flexibility to bring in the tanks at the appropriate time in the job, and they also gave us the flexibility to add to and subtract from the size of the system," King told the AIA. "I knew I could do whatever I wanted to with the HOGs, as opposed to being committed to digging a giant hole for a 450-gallon tank."