Black trees usually mean disease or fire, but in the case of a very special installation at Tašmajdan Park near St. Mark's Church in Belgrade, the site of an ebony-colored tree brings a smile to the faces of passers by. Why? Because this tree is special. Created by native artist Miloš Milivojevic for renewable energy company Strawberry Energy, the Black Tree acts as a welcome oasis for both people and their mobile devices.
You see, the Black Tree's color serves a purpose in addition to attracting the eye. The dark paint draws the sun to a pair of solar panels mounted on top of the structure. Park goers can then use the tree to recharge their mobile phones and tablets while sitting on the bench underneath.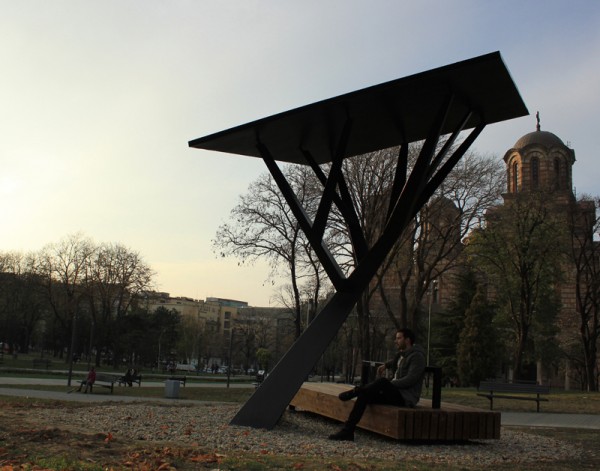 Throughout the day, people who find their devices running low on power can use the bench as a place to recharge both their gadgets and their legs. While resting beneath the installation's tree-like canopy, devices get a bolt of juice from charging points dangling on stretchy cords hang from the metal bar on the bench.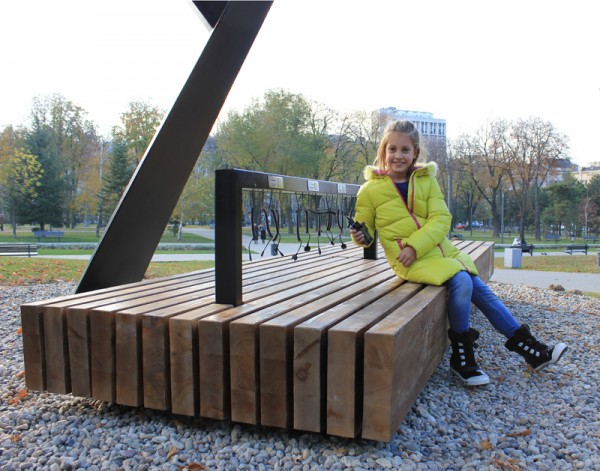 Earlier this year, Milivoljević told Mashable the mission of Strawberry Energy is to bring renewable energy sources to everyday life via sustainable development. Black Tree is an upgraded version of his first public solar charging installation, Strawberry Tree. In its first month, Strawberry Tree provided 18,695 chargings, and it recently had its 100,000th user. For many of these users, the solar charging tree provides the user's first contact with a clean source of energy, said Milivoljević.