No matter how many dimensions you believe are out there, there's little question that we live in a world with three: height, width, and depth. Artists often spend their entire careers trying to recreate the look and feel of these "real life" dimensions with media that only have two.
Artist Finn Magee would rather mix things up a bit. This UK product designer developed a line of nifty posters that depict every day objects. The difference is, these 2D images are fully operational just like the real thing.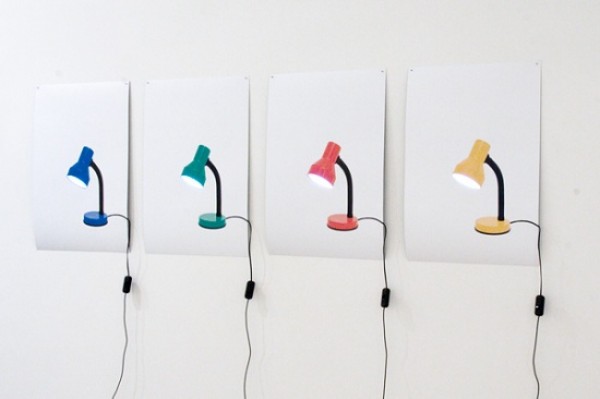 Providing a definitive answer to the question, "Is image everything?" Magee's Flat Life Light has an almost totally flat profile–from a distance, you'd probably assume they were some kind of ironic hipster decoration. Get a little bit closer and you'll see that's a real switch cord hanging down, and when utilized, it activates a cleverly embedded LED causing the lamp to illuminate.
Magee told Dvice that the idea was rooted in a recent moving experience. He noted that, when he was setting up his work space, "the place looked so much more productive with a task lamp on the desk." He was inspired to explore this idea that art can also serve a practical, motivational purpose. No wall should sit idle when it could be busy holding a working light!
The series also includes the Flat Life Clock and Speaker, said to be the thinnest commercially available speaker in the world. Available from $150.