EarthTechling is an official media supporter of SXSW Eco 2012. Follow live coverage of the event here.
Energy prices keep rising and average people are feeling the pinch. Turning things off and using smart power strips can only do so much. Unless you're willing to live in the dark and cold, limiting electricity use can only take you so far. Lighting, one of the biggest factors in home and commercial energy consumption presents a unique opportunity for technological advancement when it comes to efficiency.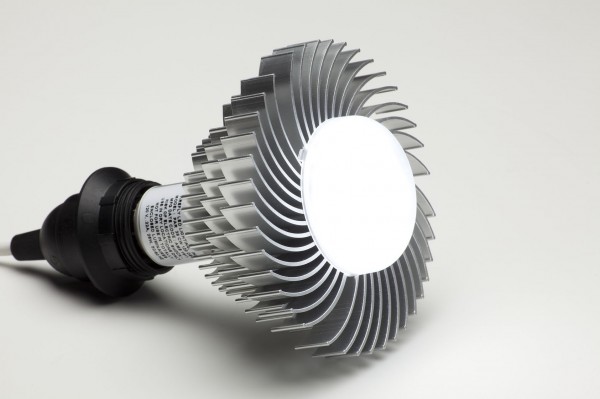 While at SXSW Eco, EarthTechling sat down with Steve Amstel, founder and CEO of Firefly LED, a company that's manufacturing a lighting industry game changer right here in the USA.
Firefly LED produces a full range of patented "Smart LED" light bulbs for direct replacement of incandescent and fluorescent bulbs in your homes and commercial structures–no special fixtures or lamps required. These uniquely-shaped, dimmable LEDs feature a patented design that allows them to dissipate the small amount of heat emitted by the internal computer chip. This feature provides 32 percent temperature reduction, 48 percent increase in thermal conductivity and 223 percent more surface area. These statistics simply mean more light and brightness per wattage, better durability, and longer life span. By doing so, Firefly LEDs reduce energy costs by up to 90 percent immediately upon installation, and eliminates the need to replace your light bulbs for up to 40 years.
http://www.youtube.com/watch?v=9_kAMTz_nOE
According to company spec sheets, Firefly LED bulbs start at about $35 (for the Starfly PAR20), which is quite a bit higher than most CFLs. Still, if Firefly lives up to its energy savings claims, that would be recouped quickly. H/T Derek Markham :)