When accidents happen in cars with green technology, extra care must occur in order to deal with more sensitive components such as an electric car's battery pack. This requires first responders to receive extra training, the benefits of which, for example, came to light in a Prius-involved accident in Portland, Oregon earlier this year. Now New York State Police collision investigators have joined the growing number of those getting this special type of knowledge to ensure they know how to properly handle an accident scene.
More than 40 New York State Police collision investigators recently received training "aimed at preventing injuries or deaths when responding to motor vehicles involving electric and hybrid-electric vehicles." They are among the first police officers in the nation to get this training, which apparently is more commonly offered to fire fighters. The program they learned from has been developed over the past year in conjunction with the National Fire Protection Association (NFPA).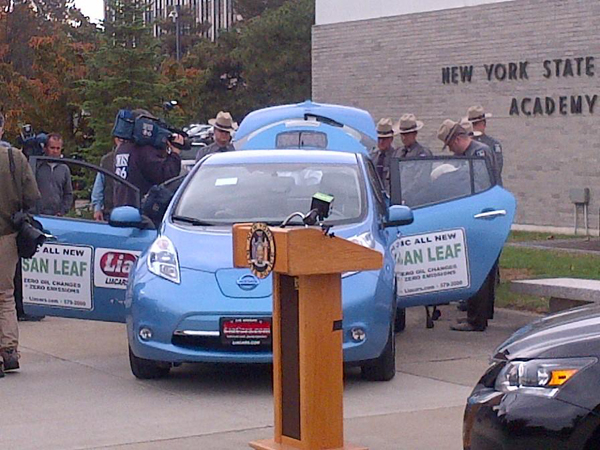 As the New York State Police noted "electric and hybrid-electric vehicles are characterized by high voltage electric propulsion systems, which are significantly different than those found in conventional vehicles. Although they are designed with a variety of safety systems, electric and hybrid-vehicles present unique concerns for emergency responders if those systems are compromised as a result of a motor vehicle crash." This holds true particularly to green car battery packs, which have resulted in several recalls because of potential issues by the likes of GM and Fisker Automotive.
The NFPA originally developed electric vehicle safety training for the fire service, and began training fire fighters nationwide in 2011. New York State Police, realizing they needed the same type of training, approached the NFPA to develop job specific training for law enforcement officers, both at crash scenes and during subsequent investigations.
The training the investigators went through included being given first-hand knowledge of the new technologies and special features included in these vehicles through a live demonstration. Feedback collected from the training will be used to make this knowledge available to the law enforcement community nationwide, said the NFPA, while the New York investigators will go on to train all New York State Troopers statewide.
"NFPA is supporting the large-scale introduction of electric vehicles by helping first responders become familiar with any new car that is coming down the road," said James M. Shannon, NFPA president, in a statement. "We are proud to tailor our successful Electric Vehicle Safety Training Project to fit the needs of those in law enforcement, specifically in the state of New York. Often times, police officers are the first to respond to the scene of an accident and NFPA's training will help protect officers and allow them to better protect the public."