In a tangled legal argument that could have wide ramifications for renewable power development, wind power companies scored a victory over an Idaho utility yesterday when U.S. regulators ruled that the utility can't reject wind power during periods of slack electricity demand.
But the ruling [PDF], by the Federal Energy Regulatory Commission, hardly puts to rest the simmering battle over how wind power fits onto the grid in Idaho.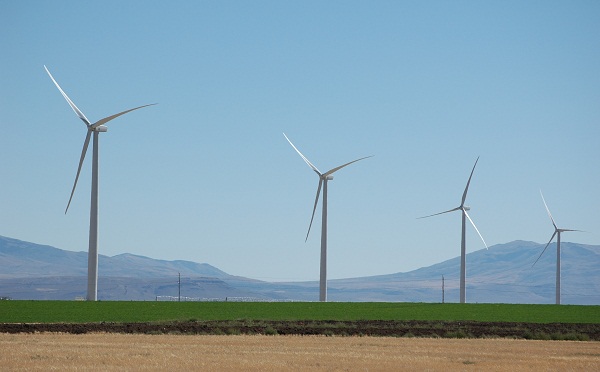 The dispute centers on the 1978 Public Utility Regulatory Powers Act, a law intended to open up the U.S. electricity market to small, independent producers by requiring utilities to purchase power from any "qualifying facility" that could generate power for less than what it would have cost the utility to generate the power itself, known as "avoided cost."
Here's the problem, at least as far Idaho Power is concerned: The investor-owned, regulated utility says it is deluged with PURPA power – from 119 projects, with 989 MW of nameplate capacity as of March – particularly when demand is low.
All those PURPA projects, along with the hydroelectric plants and coal-fired power stations that help Idaho Power meet its base demand day in and day out, add up to more electricity than Idahoans are sometimes using. In these situations, Idaho Power says taking wind power requires it to throttle down lower cost energy sources and use higher cost sources that can be ramped up quickly if demand rises or wind power ebbs. The result, it says, is added costs. More broadly, the company says that the way the long-term wind deals are priced forces it to sometimes sell relatively expensive wind power back into a soft market, taking a loss in the process.
To avoid these situations – and, it says, to save ratepayers money – Idaho Power is seeking changes in the way the state enforces PURPA (the law does give states some latitude on that count). Idaho Power wants to move to five-year contracts instead of 20-year deals with qualifying facilities; it wants to ditch avoided costs as a tool for calculating prices; and it wants all renewable energy credits that are generated by the power it purchases.
This is what Idaho Power been asking the Idaho Public Utilities Commission for, but in the meantime, the utility has sought the right to reject wind power when demand is low – an action called "curtailment." It was on that count that the Federal Energy Regulatory Commission, in its ruling yesterday, said no.
Wind companies, led by Idaho Wind Partners 1, told FERC that such curtailments would violate PURPA and their 20-year power purchase agreements with Idaho Power, which were approved by state regulators and reflect the variability in demand and supply that Idaho Power will face over the course of the contract. That's the real measure of the cost of power, the companies said, not today's low costs, driven down by the shale gas boom.
The companies said, ultimately, that giving Idaho Power the unilateral ability to shut down wind could devastate them financially.
FERC agreed, saying in its ruling, "the rates set in the PPAs for such bilateral transactions — which reflect avoided costs calculated at the time the obligations were incurred – already represent each party's taking into consideration various changes in circumstances over time such as light loading when deciding to be bound by the PPAs' terms."
So score a victory for the wind companies – but the question of how Idaho treats wind power is far from settled. Idaho Power, in a statement, said it disagreed with Idaho Wind's position on curtailment and was now "examining the ruling and evaluating our options." Meanwhile, the state's Public Utilities Commission is still weighing those major rules changes that Idaho Power is seeking, which clean energy advocates say could hinder the growth of wind, solar and other alternative sources in the state.