It seems like just yesterday we brought you word of the SunBloc (the sole U.K. entry this year's Solar Decathlon Europe), a house designed to sit on top of another house — in fact, it was just yesterday. Call it smart people thinking seriously about urban density and the future of cities. Call it an idea whose time has come, or perhaps just something in the air this fall. China Daily reports that four family "villas" now sit atop a shopping mall in Zhuzhou, Hunan province.
These structures have led to questions regarding their safety and legality, but city planners have gone on record to note that these home were built legally and with all due documentation. They were constructed by Zhuzhou Jiutian Real Estate in conjunction with the new mall on which it sits, consisting of five stories. And while the villas look like homes — complete with suburban-style "lawns" — they'll actually function as offices for mall employees. The four  villas come complete with electricity and plumbing.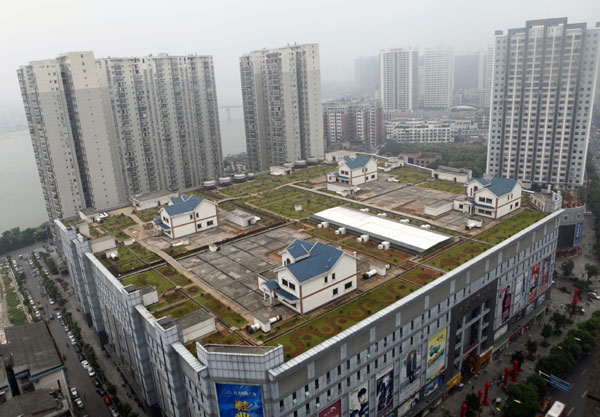 Still, this design is a radical departure from the type of rooftop addition you'd imagine for employees in such a context. Smack dab in the midst of the mall's green roof, these villas feature sweeping views of the city of Zhouzhou — a fast-growing city, and the second-largest in the Hunan province. They seem to suggest a future where urban planning allows for increased density via houses and yards constructed on top of low-altitude structures, bringing, as io9 puts it, "a little bit of suburbia to the heart of the city."
This whole rooftop villa thing has a bit of a precedent in China, and not necessarily a good one.  Back in October of this year, residents of a 12-story building in Wuhan, Hubei province, complained of leaking from a rusted pipe on the top floor; the pipe was unreachable because it was located underneath one of the four villas on the roof. Unlike the new villas at the mall in Zhuzhou, these rooftop residences had been sold to individual homeowners; like the mall development, they were built with the approval of local authorities.
Leaking pipes aside, it seems likely that we will see more rooftop real estate under development in China in the future, as a partial consequence of another trend: green roofs. In 2011, Beijing passed a law requiring buildings that have fewer than 12 floors and stand shorter than 45 meters that were built within the last 20 years to put in a green roof. Other cities are following Beijing's lead, Zhuzhou among them; in 2008, it was named one of 34 national-level "garden cities." Since that time, the municipal government has made a number of investments aimed at greening the city, even as the area has grown to accommodate more residents.
With more people, and more greenery on the roof, we imagine it's only a matter of time until the ultimate upper-middle-class penthouse sits squarely atop the top floor.