You may have heard of this whole green building and urban farming they've got going on in Detroit these days. But another Michigan city is quietly becoming a nationally recognized leader in the realm of sustainability.
That city is Grand Rapids. Located in the southwest sector of the lower peninsular on the Grand River, it's a city — like so many in Michigan and throughout the Midwest — with a history in manufacturing. Specifically, furniture manufacturing, a heritage that lives on in the fact that Grand Rapids remains the global headquarters of renowned office-furniture manufacturer Herman Miller.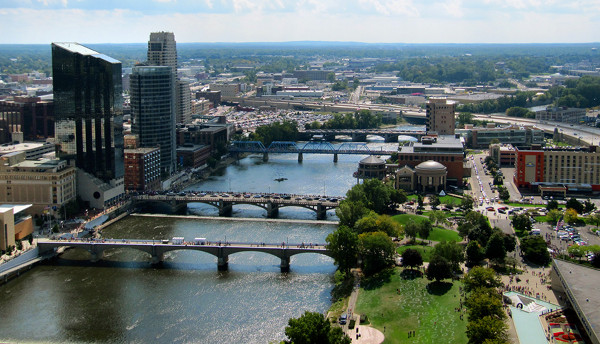 But with the collapse of other types of manufacturing in the region and the attendant loss of municipal revenue, Grand Rapids has sought, like many other cities, to cut costs in municipal buildings through energy efficiency measures. Unlike many other cities, Grand Rapids also recognized the need for a systemic and strategic triple-bottom line approach to energy efficiency. The city's nationally recognized success relies on four key actions: institutionalizing energy efficiency and sustainability thinking into its organizational culture; dedicating itself to detailed measurement and progress reporting; developing a long-term energy efficiency and conservation strategy to guide its work; and empowering city staff to innovate and pursue smart energy projects.
According to Haris Alibašić, Legislative and Sustainability Director for the City of Grand Rapids, who penned a recent article on Triple Pundit, Grand Rapids has, over the past decade, been increasingly active in advocating for environmental responsibility and sustainability. An example: in December 2007, the city began purchasing 20 percent of its energy from renewable sources. That action has now led to the city's 2011–2015 Sustainability Plan, a multi-year, adaptable document that lays out specific, measurable outcomes related to energy and climate protection, as well as the reduction of its dependence on and consumption of fossil fuels. In the course of this plan, the city has laid out a goal to reduction its direct and indirect CO2 emissions and reduce municipal energy consumption to 103,000 megawatt-hours by 2013 — a target it has already managed to meet, two years ahead of schedule.
City leaders in Grand Rapids have now committed to a target of obtaining 100 percent of the city's energy from renewable energy by 2020. To meet those targets, city staff are finding innovative ways to reduce their energy consumption, then using those (measurable) savings to reinvest into renewable energy efforts.
All these efforts to lighten the city's impact on the natural environment have not gone unnoticed in recent years. In 2010, Grand Rapids was named the nation's most sustainable mid-size city by the U.S. Chamber of Commerce Civic Leadership Center and Siemens Corporation. In June of this year, the city and its mayor, George Heartwell, received the 2012 U.S. Mayors' Climate Protection Award in the large city category, an initiative sponsored by the U.S. Conference of Mayors and Walmart.
All of which is well and good, of course. But you know a city has put itself on the map, in terms of sustainability, when it's home to the nation's first LEED-certified micro-brewery, featuring a locally sourced, seasonally rotating menu and beer-to-go in cans made from 68 percent recycled aluminum. Cheers, GR!