There's a saying, "don't mess with success." That means, once you get something right, it's time to stop tinkering. Well, the incandescent light bulb was invented over 100 years ago, and it's still pretty much the same today as when Edison connected the first one to a power source. That's pretty successful. Still, we now know that incandescent light bulbs are extremely inefficient, wasting lots of energy as heat, and not really that reliable. So, it's time to reinvent a better bulb.
CFL's and LEDs have been offered up as more efficient alternatives, and no thanks to Congress, they're already becoming quite popular. Still, there are scores of industrial designers who think they can do better. Phil Bosua, Andrew Birt, Andy Gelme, John Bosua, Ben Hamey, Dave Evans and Guy King are just such a team of starry-eyed dreamers. And if 3,394 Kickstarter backers (and counting) have anything to do with it, they just might pull it off.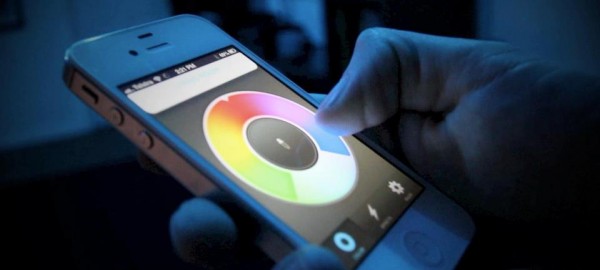 Now, EarthTechling has featured lots of LEDs and LED lamps in the past. Without a doubt, this project is like nothing we've ever seen before. LIFX is a WiFi-enabled, multi-color, energy-efficient LED light bulb that you control with your iPhone or Android phone.
Simply screw the familiarly-shaped LED into a normal lamp or light fixture, download a free app from the App Store or Google Play, and you're ready to experience complete control over your home or office lighting. The app allows you to dim the lights without getting up, change their color to suit your mood, and set night lights at the touch of a button. It also allow you to sync your home lights to your stereo system for an impromptu dance party, or set your lights to flicker when you receive an alert on your phone. Lose your phone? No worries. The LIFX will still turn off and on with your normal light switch.
Even with all those extra capabilities, the LIFX smartbulbs are still rated same as normal LEDs, with 40,000 hour/up to 25 year standards. The Kickstarter campaign to fund this project exceeded its $100,000 goal in less than 24 hours, so this amazing technology will be available for purchase soon. Secure yours with a $69 donation.