Milan is awash this week with fashionistas intent on viewing the latest designs from Prada and Gucci for Milan Fashion Week. Those who choose to do a little shopping while they're in the historic city, long known for its art and architecture, may encounter another fascinating spectacle in the form of the world's largest vertical garden. The garden, designed by Italian architect Francesco Bollani, adorns the Centro Commerciale Fiordaliso, a shopping center in Rozzano, and encompasses about 13,600 square feet.
Architizer reports that this vertical garden was completed in 2010, but was only recently confirmed as the record-holder by the Guinness Book of World Records. It blew away the previous title holder, the Jardín Vertical Hotel Santo Domingo in Madrid, which covered 844 square meters (around 9,o84 square feet). It includes 44,000 plants in a modular system of small metal containers.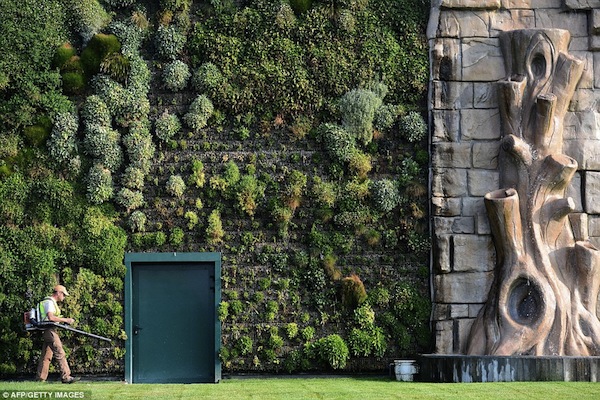 According to the UK's Daily Mail, Bollani headed up a creative team that included an architecture firm from Montpellier, France. It took them a year to grow the plants used in the project in a greenhouse, and around three months to fashion the facade to hold them. Bollani likened the process to building a giant Lego structure.
Beyond the eye-catching aesthetic appeal and world-record bragging rights the garden has afforded the mall it adorns, the garden performs an ecological function as well. The garden helps to regulate the temperature in the shopping center by reducing the amount of direct sunlight that hits it, helping to cut down on cooling costs associated with solar gain. It also helps to reduce ambient noise and absorb carbon dioxide.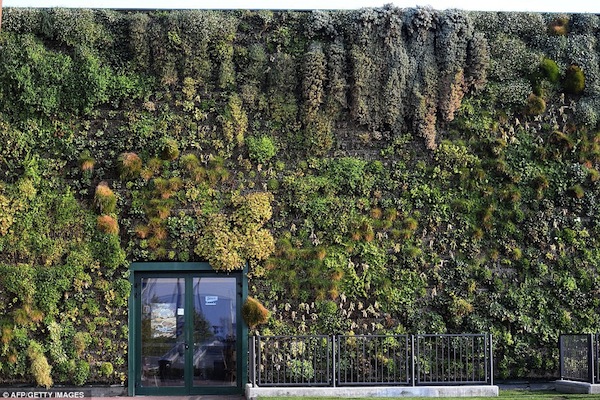 This last aspect of the installation may have more of an impact on local air quality than many would have believed even a short time ago, as a recent study we reported on from the Karlsruhe Institute of Technology (KIT) in Germany found that green walls have even more of an affect on polluted urban air than planting trees. The study found that green walls of climbing plants located in areas where concentrations of pollutants were highest had exponentially more effect than either green roofs or plants grown in parks. (Trees planted along roads also produced good results, but only in less polluted streets, where the tree top canopy did not play a part in trapping polluted air at the ground level.)
Yahoo News (via France's AFP) notes that French architect Le Corbusier was one of the first to design a vertical garden, way back in 1923 — an idea that has since found favor with architects around the world. But vertical gardens often come with structural challenges, especially on this scale. According to Bollani, his design was easier to build and take apart than a traditional vertical garden because its large-scale structure is made up of small modular containers. (We imagine this may aid in the care and replacement of individual plants, as needed, as well.)
Easier to build, however, does not necessarily mean more affordable, as this project cost a total of 1.0 million euros ($1.3 million) to grow, build and install.
Will Bollani's vertical garden system start a trend in green building? Only time will tell. But we do know that plenty of shoppers will be stopping by the Centro Commerciale Fiordaliso this week to see this big green beauty for themselves.