Living in a big city can be awesome for eating, sight-seeing, and concert going. Unfortunately, driving and parking to get to those activities is typically a nightmare. For years, bike commuting has been growing steadily in the heart of America's most car-dependent towns. Brave cyclists venture out into the throng of traffic, often without the comfort of bike lanes, in an effort to reduce congestion and eliminate the search for ever-elusive parking spots.
Transportation Alternatives, the biggest bicycle initiative in New York City, thought all this dedication should be rewarded. The organization partnered with over 150 local businesses to create the city's first-ever bike-friendly business district. Customers who make an effort to arrive by bike will be rewarded with special discounts at these pro-bike retailers, restaurants, and museums.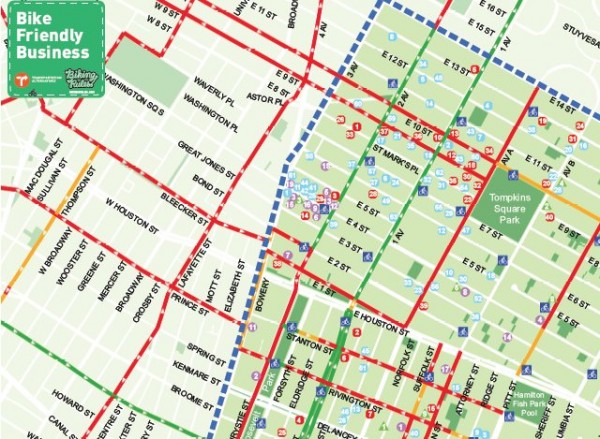 The bike-friendly district, located in the East Village and Lower East Side, helps to reinforce and reward the importance of commuting by bike. Instead of having to lock bikes to trees and light posts before heading inside a shop or sitting down for lunch, there will be permanent bike racks and a welcoming committee!
According to the Gothamist, participating businesses will offer discounts and deals to patrons who arrive by bike, and several businesses have committed to making deliveries by cargo bike. The benefits of this initiative are intended to be reciprocal for the businesses as well. "Streets that prioritize biking and walking and include amenities like bike lanes and pedestrian plazas have been proven to boost retail sales by 10-25 percent," according to Transportation Alternatives.
It's hoped that soon other neighborhoods will want to become involved in the program or start something similar of their own. If NYC's much-anticipated bike sharing program finally launches next spring, there might soon be more bikes on the road than taxis!