Last time we checked in on the First Solar-developed Agua Caliente solar power plant – in July – it had rounded the 200 megawatt bend, making its way toward an eventual generating capacity of 290 MW. It's not to the finish line yet, but in less than two months workers have added another 50 MW, making the vast array in the Arizona desert the world's largest operating photovoltaic power plant.
This announcement yesterday came just as the Solar Energy Industries Association was putting out word that utility-scale PV development had boomed in the second quarter, accounting for a record 447 MW of the 742 MW of PV installed nationwide in the April-June period.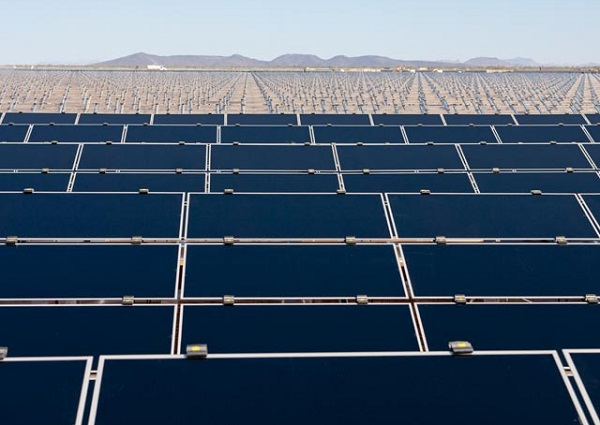 Thank you very much, Agua Caliente.
Gujarat Solar Park in India, which claims 214 MW of PV, was, by our reckoning, the largest PV plant in the world before being eclipsed by Agua Caliente (although whether the Indian plant was actually operating at that capacity has been a little unclear). Also unclear is how long Agua Caliente will wear the crown as Most Gigantic of the Gigantic Solar Power Makers, although we know its time is limited.
Gujarat aims to get bigger, and work is under way in San Luis Obispo County, Calif., on the 550-MW Topaz Solar Farm, which is and is also being developed by First Solar using the company's thin-film PV modules, and is owned by MidAmerican Solar, the company that owns Agua Caliente jointly with NRG.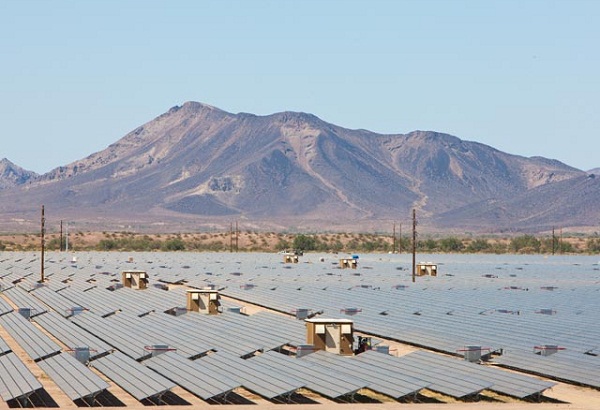 Topaz is expected to be completed by early 2015, First Solar says, but of course it will have large amounts done long before then. Plus, based on the fast pace that the Agua Caliente project has been on, who knows, First Solar might advance the Topaz timetable.
Panels have been going up so quickly at Agua Caliente, in Yuma County, Ariz., that First Solar has "adjusted the construction schedule to a slower velocity in line with future contractual milestones and the scheduled completion date."
That would be 2014. But if Agua Caliente could go from 30 MW in January to 250 MW now, why wait until 2014 to finish the job? Here's why, First Solar said: "The adjustments have provided First Solar with increased flexibility to allocate its solar module supply to better serve increased demand in the second half of 2012 across its portfolio of projects."
Agua Caliente is supported by a $967 million federal loan guarantee. Power from the plant is going to Pacific Gas and Electric Company, in Northern California, under a long-term power purchase agreement.