It's not grid-connected – that type of test center, considered vital to commercializing wave energy, is still in the development stages – but the Pacific Northwest now has a place for companies and scientists to put new wave power devices through their paces.
The Ocean Sentinel began operating off the Oregon coast near Newport last week, according to Oregon State University, which is home to the Northwest National Marine Renewable Energy Center, a joint project with the University of Washington.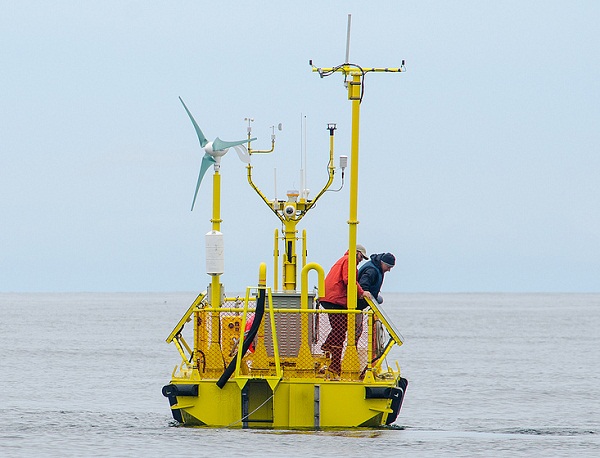 "We're still trying to figure out what will happen when some of these devices have to stand up to 50-foot waves," Sean Moran, ocean test facilities manager with NNMREC, said in a statement. "The ocean environment is very challenging, especially off Oregon where we have such a powerful wave energy resource."
Being able to test devices is expected to be a boon for firms and researchers looking to develop wave power devices. Moran said the Ocean Sentinel will provide a "standardized, accurate system to compare various wave energy technologies."
One wave power device has already been extensively tested for placement in Oregon waters – the PowerBuoy made by Ocean Power Technologies. The company just received its federal license to go forward with a plan to put up to 10 of the devices in the Pacific a couple of miles off the coast near Reedsport. But it wasn't tested in Oregon: Instead, it got a thorough going-over in Scottish waters.
Scotland has become a center for the wave and tidal industry, in part because of the European Marine Energy Center, which has grid connection and 14 full-scale test berths. With grid connection, wave energy devices can be certified to Institute of Electrical and Electronics Engineers  and other international standards, while also providing power to the local grid.
The NNMREC is eager to do something similar in the Pacific Northwest, though on a slightly smaller scale, with the Pacific Marine Energy Center. While the Ocean Sentinel "is a critical step forward, developers and policymakers alike have determined that a full-scale, grid connected ocean test facility is needed to achieve industry commercialization and fully reap the benefits of this clean, renewable energy resource," the NNMREC said earlier this year.
The NNMREC held forums in coastal cities last week to explore where to site the Pacific Marine Energy Center, with waters off Newport, Reedsport, Coos Bay and Camp Rilea under consideration.
The Ocean Sentinel will operated in a 1-square-mile patch of the ocean about two miles northwest of Yaquina Head, according to Oregon State University. In addition to studying how wave energy devices fare in the waters, the program hopes to measure "potential environmental impacts, whether they might come from electromagnetic fields, changes in acoustics, or other factors," the university said.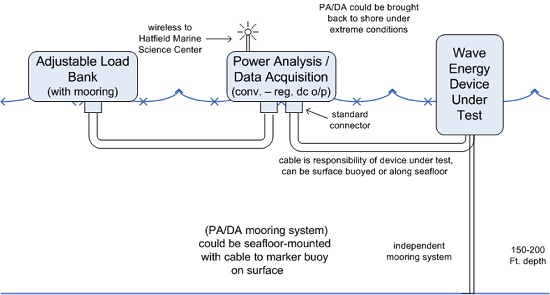 According to the university (see schematic above), the Ocean Sentinel consists of a power analysis/data acquisition device and an adjustable load bank (ALB). The data is sent via wireless to the university's Hatfield Marine Science Center, where it can be crunched to give "RMS voltage and current, frequency, real and reactive power, power factor, harmonic content and other quantitative analyses." The ALB dissipates the energy generated.
Development of the $1.5 million Ocean Sentinel was supported by the U.S. Department of Energy, the Oregon Department of Energy and the Oregon Wave Energy Trust.