The city of Portland, Oregon, is no stranger to green roofs. Since the 2008 launch of its Ecoroof Incentive program — which offers  up to $5 per square foot of a green roof project — the city has seen the installation of 330 vegetated roofs, with 100,000 square feet of that in 2011 alone. But in 2012, the city is set to gain a whole lot more green roof footage in a single project alone: the new Hayden Meadows Walmart store in North Portland.
This new, 90,000-square-foot Walmart location (which recently broke ground) will include a 40,600-square-foot Ecoroof, the largest private green roof in Portland and Walmart's second such roof in the country. The plan calls for a roof that meets the City of Portland's Ecoroof requirements with a layer of waterproof synthetic membrane root barrier topped with a growing medium, followed by a layer of vegetation. In that friendly manner of green roofs everywhere, the Hayden Meadows' Walmart's Ecoroof will extend the roof's lifetime by two or three times, create habitat for birds and insects, decrease storm water runoff, absorb carbon dioxide, and help to save the building cash and carbon in the form of heating and cooling costs.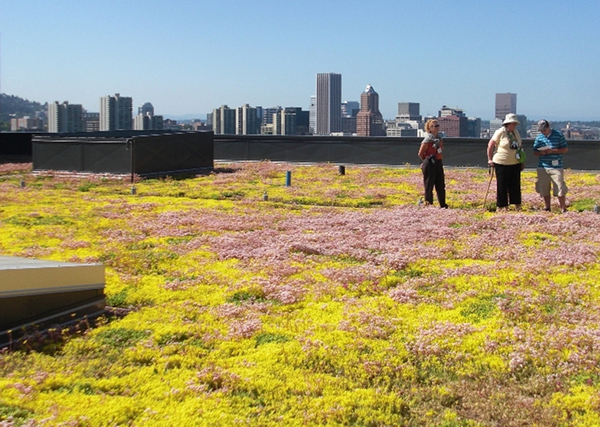 Other green features planned for this new store include lighting systems with daylight monitoring and skylights; eco-friendly flooring made with recycled fly ash; an HVAC system that recycles heat produced by the building's freezer units; LED lighting in parking areas; recycled construction materials (such as steel and plastics); and a white membrane covering the remaining, un-vegetated portion of its roof. The store has retained space for a future Tri-Met bus stop, and will include bicycle racks.
The Ecoroof at the new Portland store is slated for both the main portion of the roof as well as the lower roof, which will be visible from Hayden Meadows Drive and the I-5 Freeway. Walmart plans to use perennial sedums along with a cascading groundcover and taller native plants on the building's parapet.
Walmart's first Ecoroof was installed on a store in Chicago in 2008. "The Hayden Meadows Ecoroof gives us an opportunity to test Ecoroof performance in a more moderate climate," said Kimberly Sentovich, Senior Vice President, Pacific Division, Walmart, in a statement.