The breezy ridges that are so attractive to wind-power developers are also, quite often, prime raptor nesting territory. That's the case on Kevin Rim, sandstone cliffs in north central Montana where NaturEner is building a 189-megawatt wind farm that will generate power for San Diego Gas and Electric.
If this sounds like a situation that could lead to a classic pitched developer-environmentalist battle, well, it did have that appearance – but in a surprising turn, the developer of the Rim Rock Wind Farm has agreed to relocate more than two dozen turbines, pushing them away from raptor nesting sites.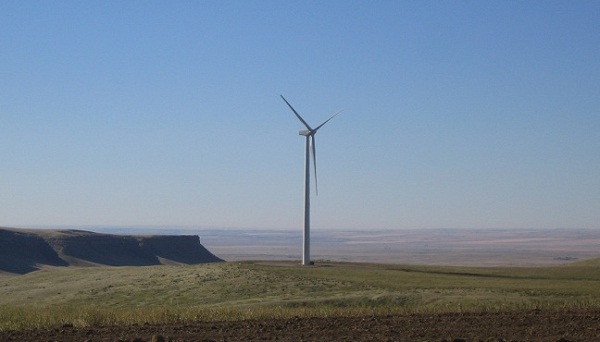 "At the urging of Montana Audubon, NaturEner voluntarily agreed to relocate each of 25 wind turbines to provide a buffer of approximately ½ mile from historic and active raptor nests," the company and organization said in a joint statement [PDF]. "This commitment was made after the project design was finalized, financing completed, and actual construction had begun."
A memorandum of understanding [PDF] reached by the parties added that the relocation came "at great expense to Rim Rock," and included acknowledgement from Montana Audubon that NaturEner's actions in the matter were "unprecedented and extraordinary."
According to Audubon, 10 species of raptors are documented to breed at Kevin Rim, including four species that are of global (ferruginous hawk), continental (Swainson's hawk, prairie falcon), or state (golden eagle) "conservation concern."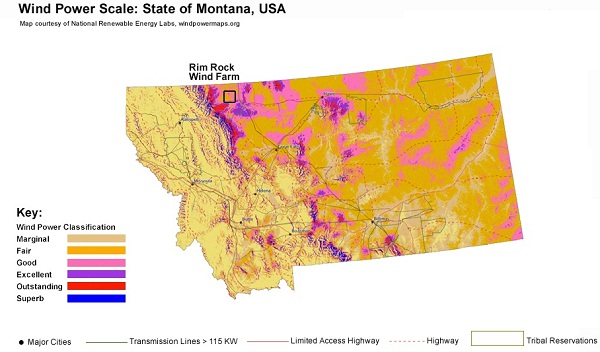 But with the project on private land and no Montana wind development regulations lax, Audubon's leverage was limited. Projects on federal land at the very least give interest groups a chance to comment on the potential impact of a development.
On the other hand, some raptors – including golden eagles, which are found in the Kevin Rim area – are protected by federal law, regardless of whether they're on public or private land.
The Obama administration recently finalized new voluntary siting guidelines that were endorsed by the wind industry and many major environmental groups, including Audubon. While the voluntary guidelines don't carry the big stick of mandatory regulation, they do come with a carrot: They state that developers found to be in violation of laws and regulations – whose turbines, for instance, kill a protected species – could potentially escape trouble if they can show "documented efforts to communicate with the (Fish and Wildlife) Service and adhere to the Guidelines."
Earlier this year, when NaturEner got financing to build the project and the raptor issue began to bubble up, the company told the Great Falls Tribune [PDF] it was consulting with the Fish and Wildlife Service, but maintained that quarter-mile setbacks were adequate around Kevin Rim. The area is a designated Important Bird Area by Audubon, and is also an Area of Critical Environmental Concern and a Key Raptor Area according to the U.S. Bureau of Land Management.
Further discussions, however, apparently swayed NaturEner.
"Although the land-based wind energy guidelines developed by the U.S. Fish and Wildlife Service (USFWS) did not specify a setback distance, NaturEner was aware of the concerns and consulted with both the USFWS and Montana Audubon in an effort to find common ground regarding the planned turbine placement," the joint statement said. "After numerous meetings and the desire of both NaturEner and Montana Audubon to find an acceptable solution to minimize potential impact to these sensitive bird species, the final design plan was changed."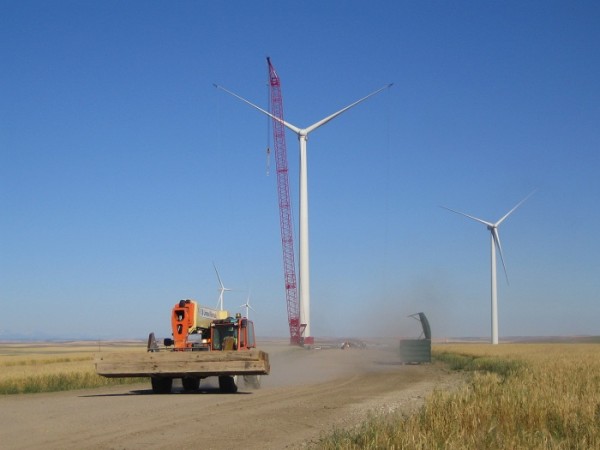 As of the end of July, 33 of the 126 turbines planned for the site were installed. With 305 workers on the site, NaturEner is motoring ahead to get the project completed, and an opening ceremony is set for Sept. 12.
Rim Rock is merely one project out of more than 1 gigawatt (GW) of wind power capacity that NaturEner has planned for the windy corridor surrounding the Montana-Alberta Tie Line (MATL) transmission line. The 300-MW, 214-mile long MATL will stretch from a substation nine miles northeast of Lethbridge, Alberta, to Great Falls, Mont., according to a company announcement from January.
Rim Rock is NaturEner's third wind farm in Montana. The company also owns and operates the 210-MW Glacier 1 and Glacier 2 projects, near Ethridge. The company's Canadian affiliate is developing more than 500 MW of wind power capacity in Alberta. Both companies are subsidiaries of Spain-based Grupo NaturEner.