Happy Hump Day! If you felt a little bleary eyed when rolling out of bed this morning, chances are you made time for a caffeine boost. Fifty-two percent of Americans (that's 100 million of us) drink coffee, and most of us don't make it ourselves. That means lots of trips through the Starbucks line for to-go cup of Joe. Unfortunately, all that sipping out of paper cups leads to a lot of trash–recent reports estimate 410,000 disposable hot-beverage paper cups are used in the US every fifteen minutes.
Disgusted by the sheer volume of this one particular kind of waste, sustainability professional Karla Zens felt guilty about being part of the statistic. A self-confessed caffeine addict, Zens decided knew it was better to bring her own reusable coffee mug, but found popular options too big and bulky. She envisioned Zip Cup, a coffee mug that could shrink once the drink was gone, and now she needs your help to make it a reality.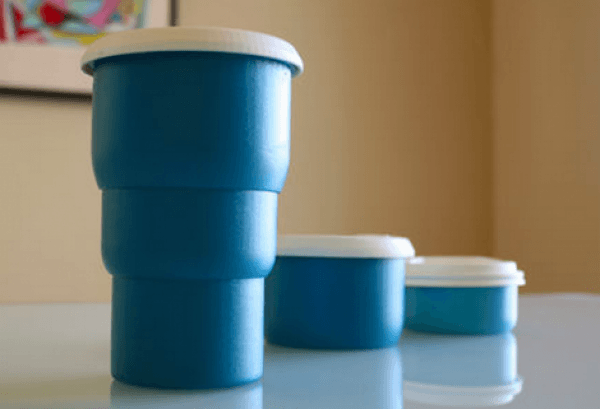 As Zens explains, the Zip Cup is inspired by the low-tech collapsing cup you had as a kid, but upgraded for adults (and hot liquid) by adding locking mechanisms similar to those used on space shuttles and submarines, and using recyclable, BPA-free plastic.
Despite these sophisticated locks, I would be a little worried the first time a barista fill it with scalding liquid, but Zens says there's no need for fear. "It holds a 16 oz. cup of hot coffee without burning your fingers, leaking or dripping (when extended or collapsed). The lid has a drinking spout that can be closed off to prevent coffee sloshing out while you walk." Once you're done with the latte, the cup collapses down into a container the size of a hockey puck. Slip it into your purse or pocket, and you're hands free for the rest of the morning.
Right now, Zens is seeking pre-orders for the Zip Cup on Indiegogo. Each pledge brings the product one step closer to reality, and prevents  more paper cups from ending up in the landfill. "Zip Cup will have an immediate environmental impact," writes Zens on the campaign page. "If you help us hit our goal and get Zip Cup in the hands of just 5,000 daily coffee drinkers, we can prevent over 1.8 million paper cups from getting trashed next year, saving 20,000 gallons of water."