The Basketball Arena of the London Olympics is not only one of the most visually dramatic buildings of the 2012 Games, it's one of the biggest temporary venues ever erected for any Olympic and Paralympic Games. Along with the much-discussed Velodome (which will host this summer's cycling competitions), the Basketball Arena was also constructed with some smart green features.
The Basketball Arena, designed by Wilkinson Eyre Architects, provides the Olympics with 12,000 seats for the basketball heats and handball finals, as well as 10,000 seats for the wheelchair basketball and wheelchair rugby competitions. The design brief called for a structure that would go up with a minimum of fuss and effort but still result in a world‐class sports venue for some of the most popular Olympic events. That, and the London Olympics' overall focus on sustainability, were the key drivers in the building's design.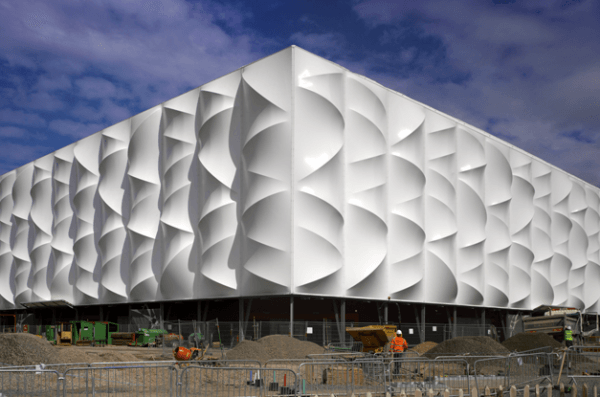 The resulting building — the third largest venue in London's Olympic Park — stands 30 meters (98 feet) high, the equivalent of a seven‐story building. It's composed of a a steel portal frame and wrapped in 20,000 square meters (66,000 square feet) of lightweight, phthalate‐free, recyclable PVC. Custom-designed for this purpose, this translucent cladding was stretched across minimal steel framing modules arranged in such as way as to push the fabric out and create a three‐dimensional undulating pattern across the building's various facades.
This external pattern was designed to interact with light in unique and beautiful ways. During the day, the passage of the sun across the sky throws shadows across the building's facade, and by night theatrical lighting provided by United Visual Artist, specialists in concert lighting and installations, brings the fabric surface to life. After hours, the entire building becomes a kind of large-scale art installation, adding to the spectacle that is the London Games.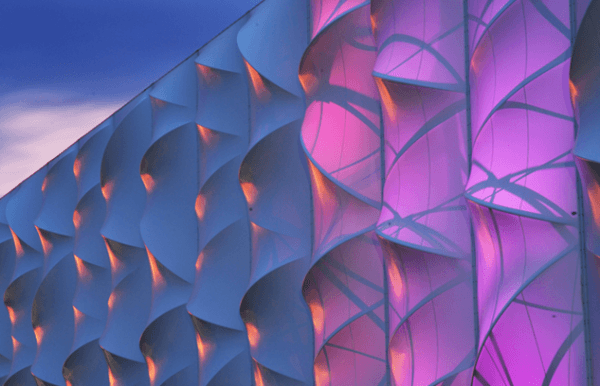 The roof fabric includes an interwoven blackout layer that eliminates daylight during game sessions while maintaining ideal artificial lighting conditions for those members of the media covering the event.
ArchDaily reports that the arena has been constructed of robust individual components that can be easily dismantled and subdivided for reuse, with over two‐thirds of the materials and components used on the project identified for reuse or for recycling. Simple, lightweight components were used in lieu of the concrete usually found in major sporting venues; all told, the Basketball Arena's steel frame and cladding went up in just six weeks.