Nearly three years ago, Ocean Power Technologies won a $66.5 million grant from the Australian government to install a 19 megawatt wave power array off the coast of Victoria, Australia. This week, quite suddenly, a lot of people came to the conclusion that the project might actually happen.
The big change? Word from OPT on Wednesday that it will partner with Lockheed Martin to develop the Aussie installation. The announcement sent OPT's stock soaring. It had nearly doubled at one point during the trading day Wednesday before settling at $3.55, a 72 percent gain from its opening price of $2.08. Some 2.8 million OPT shares were traded, almost 100 times the stock's average daily volume of 29,795.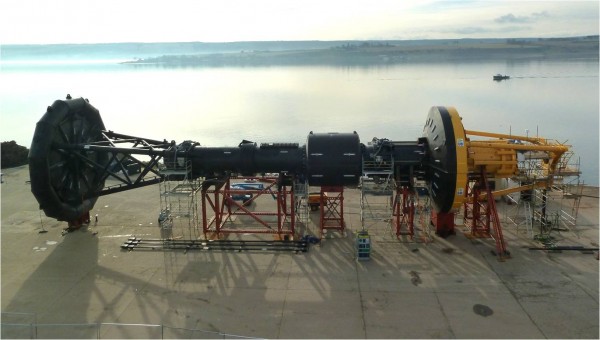 Traders clearly saw the tie-up as a signal that the nascent marine power industry might actually begin to generate real growth – and that's exactly how Lockheed Martin said the move should be read.
"We see great potential in harnessing the vast power of the ocean," Dan Heller, vice president of new ventures for Lockheed Martin's Mission Systems & Sensors business, said in a statement. "By working with OPT and Australian industry on this project, we will advance wave energy in Australia and globally."
OPT and Lockheed Martin aren't making their first acquaintance on this project; they've done business with each other dating back to 2004, and last September OPT said Lockheed Martin had joined its effort to place 10 wave power devices, capable of producing a total of 1.5 megawatts of energy, in the Pacific Ocean near Reedsport, Ore.
That project has been inching along since reports emerged in early 2010 suggesting that a buoy would be deployed imminently, with the promise of nine more to go in by the end of 2012. That first buoy still hasn't yet gone in, but the company has contracted with Oregon companies to assist it in implementing the project, and in an interview after the Australia announcement, OPT CEO Charles Dunleavy said the company was aiming to deploy an initial test buoy late this summer.
OPT's centerpiece technology, it's wave energy converter, is called the PowerBuoy. Moored to the ocean floor and floating on the water's surface, it rises and falls with the waves. A power take-off system converts the mechanical stroking that results from this motion to drive a generator, and power goes ashore via an underwater cable.
The company says such a system would operate at a capacity factor of 30 to 45 percent – at or above the capacity factor of large-scale wind – with better predictability than wind power production. The Oregon buoys are supposed to go in about 2.5 miles off the coast, creating virtually no visual impact from shore.
The device planned for Oregon is the PB150, and OPT's plan is to begin the Australia project with the 150-kilowatt model, as well, then move up to deploying 500-kilowatt PB500s. OPT deployed a PB150 in Scotland, in March 2011, and reported in July 2011 that over the course of two months, the turbine generated between 45 kW during low tide up to 400 kW during violent storms, putting it on track to average out at 150 kW.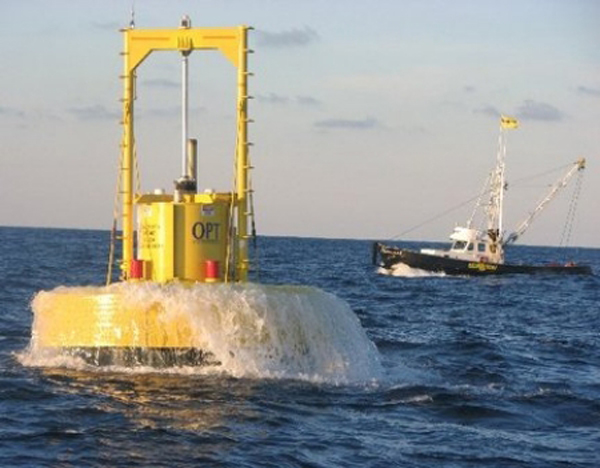 In Wednesday's announcement, OPT said Lockheed Martin "will assist with the design of Ocean Power Technologies' (OPT) PowerBuoy technology, lead the production and system integration of the wave-energy converters and support overall program management" on the Australia project. Does this mean the PowerBuoy needs more work before it can be deployed? Not quite.
CEO Dunleavy said the PowerBuoy was "at an early commercial level" and that the company was "constantly looking for ways to improve it," but added that extensive testing over the last few years had demonstrated that "the technology as is now configured is salable into commercial markets."
The real challenge, Dunleavy said — and this is where Lockheed comes into the picture — was in fine-tuning the PowerBuoy such that it can be built cost-effectively at scale.
"In our relationship with Lockheed, we look to them for assistance with one of their areas of expertise, which is design for manufacturability," Dunleavy said. "We're striving to lower our costs to our customers, the cost per megawatt-hour produced, and how we manufacture our product is vitally important. That's an area where Lockheed will bring great value."