Sustainable communities, where people living tend to practice environmental habits more frequently than average Americans, seems like it would be an ideal place for green cars to exist. Such is the case with recent placement of 100 Chevy Volts by GM at the Pecan Street project in Austin, Texas as part of a demonstration of how green technologies can positively impact the lives of residents.
GM's involvement in the Pecan Street project, which already has its share of major industry players and start ups alike involved in green technology for the home, looks to examine how vehicles with plug-in needs tie into the overall environment of sustainable technologies and the so called "smart grid" in interesting studies such as marrying "home energy consumption data and the Volt's vehicle consumption to optimize whole-home energy cost and efficiency."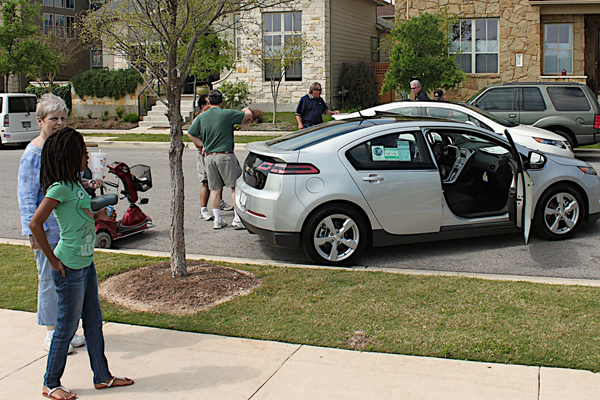 In another study, given that more than a third of homes in this sustainable community have rooftop solar collectors, evaluations will occur to see how solar energy and electric vehicle charging interplays, according to GM. The idea here is to find "a new, cost-effective way" for customers "to generate energy, potentially powering their Volts at low or no cost while relieving some of the burden from the electric grid. "
Chevrolet said that since September Volts were made available for purchase by residents participating in Pecan Street, helping to create what is said to be the nation's highest residential concentration of electric vehicles in one area. GM joins the likes of Sony, Whirlpool, Oncor and Intel in offering up green technologies of various types into this pilot eco project.
Pecan Street is part of Austin's 700-acre sustainable Mueller community, and is a test project for researchers from the University of Texas, the National Renewable Energy Laboratory and Environmental Defense Fund. They are studying these green tech products and systems to learn how they interact with the grid.
Over five years, researchers are looking to test up to 1,000 residences in and around the Mueller community.