There was "American Idol," then "America's Got Talent," and now there's "America's Most Affordable Rooftop Solar." It won't be on TV, but Secretary Steven Chu and the U.S. Energy Department think this new competition, backed by $10 million in prize money, could spur meaningful improvements in low-cost solar power generation.
The competition is part of the DOE's SunShot Initiative, which also got a boost this week in the form of new investments in 21 projects pointed specifically at improving concentrating solar power (CSP) technologies.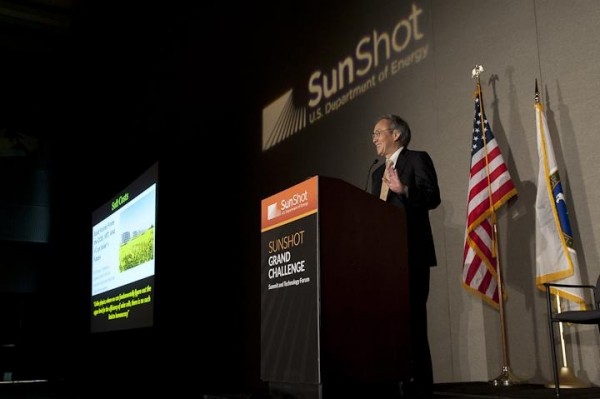 And if that wasn't enough, Chu, at the Sunshot Grand Summit Challenge in Denver last week, announced up to $8 million in SunShot Incubator money that will go to startups "developing transformative solutions to streamline solar installation processes such as financing, permitting, and inspection."
The SunShot Initiative is a collaborative national effort to make solar energy cost competitive with other forms of energy by the end of the decade.
"Through the SunShot Initiative, we're tackling the technological, scientific and market barriers facing America's solar industry to make sure solar power continues to play an important role in our diverse energy mix," Chu said. "The investments in American start-ups and the new competition announced today further our efforts to seize on the tremendous global market for clean energy technologies, representing hundreds of billions of dollars worldwide."
The competition is the most intriguing aspect of the latest barrage of SunShot initiatives to come down the pike. Unlike most everything else SunShot does, it's not a grant to develop a new technology or tweak an old one to make it more cost-efficient. It's simply a race.
Here's how it works: Beginning on August 1 this year and ending on Dec. 31, 2014, the first team to install 5,000 rooftop systems between 1 and 15 kilowatts in size, with an average price of $2 per watt will win $7 million. The second team gets $2 million, and the third gets $1 million. "Remember that your goal is to demonstrate that you can sustain a profitable business for selling/leasing rooftop systems at $2/W," the DOE notes.
The price of a residential PV system was about $6/W in 2010 according to the SunShot Vision Study, although that cost has been falling.