We haven't too often alluded to microbial fuel cells (MFCs) here at EarthTechling, though most recently we did touch upon them in connection with a story to turn pee into power. They're a form of biomass energy that use bacteria to oxidize organic matter to produce an electric current.
Right now they remain on the edges of the renewable energy industry, but engineers from the University of Wisconsin-Milwaukee (UWM) are thinking all that could change now that they've uncovered a technology that could significantly drive down production costs.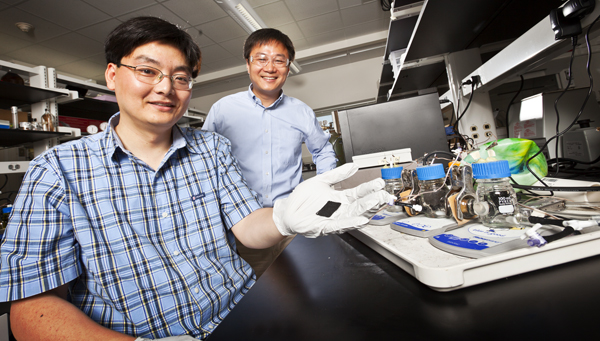 UWM researchers say they have identified a catalyst that provides the same level of efficiency in MFCs as the currently used more expensive platinum catalyst, but at a fraction of the cost.
The engineers used nanorods made from nitrogen-enriched iron-carbon, a method they say reduces cost by 95 percent compared to the current catalyst of platinum.
This could have implications beyond MFCs. The UWM team said the nanorods also had the potential to replace the platinum catalyst used in hydrogen-producing microbial electrolysis cells (MECs), which use organic matter to generate a possible alternative to fossil fuels.
The UWM team are not the only ones seeking a cheaper alternative to platinum. However,  UWM professor Junhong Chen, who created the nanorods and is testing them with assistant professor Zhen He, reckoned that over a six-month period the nanorod catalyst outperformed a graphene-based alternative being developed elsewhere as well as two other contenders to replace platinum.
The nanorods have proved stable and are scalable, said Chen, but he said more investigation was needed to find out if their product can be mass-produced.
The pair's work was published in March in the journal Advanced Materials.
On the anode electrode of an MFC, colonies of bacteria feed on organic matter, releasing electrons that create a current as they break down the waste.
A separate reaction occurs on the cathode side of the fuel cell called an oxygen reduction reaction. This is where the catalyst (currently platinum) is needed since it speeds up the reaction, thus increasing the cells efficiency.
MECs work in almost the same way except that in place of electricity they produce hydrogen.
Professor He said that when their nanorods were used in MECs, they performed better than other alternatives but not as well as platinum.
"But it shows that there could be more diverse applications for this material, compared to graphene," the professor said in a statement. "And it gave us clues for why the nanorods performed differently in MECs."
So far we don't know exactly what all the applications for this nascent technology would be but there seems to be a lot of potential.
The Office of Naval Research(ONR), for example, has announced development of a microbial fuel cell that can convert decomposing organisms in the sea into electricity.
Anointed one of the top 50 inventions of 2009 by Time Magazine, the microbial cell should be a power source for long-term operation of autonomous, unmanned underwater vehicles and other devices designed for use under the sea.