Residents of Mexico City face a resource paradox: their city receives a fair amount of rainfall each year (around 32.1 inches per year, just 5 inches less than Portland, Ore.), but its residents regularly face water shortages. Add to that the flooding the city endures on an annual basis, due to the fact that it lies in a basin that the Seattle Times characterizes as collecting rain "like a giant saucer," and those shortages seem even more absurd.
Isla Urbana wants to change all that. As a non-profit organization that believes "a scarcity of clean water for humans is an unacceptable injustice," the organization has a commonsense solution to both water scarcity and flooding: rainwater harvesting systems. To date, it has installed 750 residential rainwater harvesting systems, helping over 5,000 people capture 29,300,000 liters (over seven million gallons) of rainwater for household use.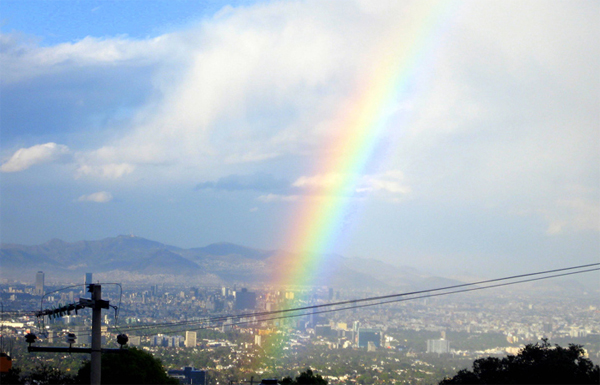 The non-profit serves the water-poor community of Ajusco-Medio, which developed in an informal way, and, as a consequence, is home to many houses do not even have a connection to the city's water system. This community, like so many others in the Mexico City, runs with rivers of stormwater during the rainy season, even as families strain to meet their fundamental water needs.
Utilizing funding from other non-governmental organizations (NGO's), small businesses, and the municipal government, Isla Urbana  is working to bring rainwater harvesting to Ajusco-Media in a way that can be replicated not only throughout the city, but to cities facing similar challenges around the world. The organization starts by training plumbers in each neighborhood to install the rainwater harvesting (RWH) systems, ensuring that there is a pool of local knowledge and expertise on hand to deal with any problems that may arise down the line. All materials used in the RWH systems are purchased in neighborhood hardware stores, further benefiting the local economy.
According to Fast Company, the project was conceived of by two Mexican-American students, Enrique Lomnitz and Renata Fenton, while studying industrial design at the Rhode Island School of Design. After repeatedly encountering the subject of water scarcity, the two became inspired to design rainwater harvesting systems for marginalized communities in Mexico City, and went on to join forces with the International Renewable Resources Institute, an NGO, and a small business called Solución Pluvial. The development and sale of Isla Urbana's low-cost RWH systems (which run around $300 each) is handled by the business, while education, training, and subsidy models are handled by the NGO.
While the rainwater harvested via these systems  is meant to complement, rather than replace, water at the tap, it is clean enough for all domestic uses. (The organization does not recommend it for drinking, unless additional filters are first installed.) According to Lomnitz,  if rainwater harvesting were properly implemented throughout the Mexico City, rain could provide for 50 percent of the city's water supply.