Racing track records are made to be broken, right? Is it even better if it is a high-performance, all electric sports car that does it? Audi is making claim to this bravado, announcing its R8 e-tron has set a lap record at the demanding Nürburgring Nordschleife in Germany.
Audi said its R8 e-tron, equipped with dual electric motors that generate an output of 280 kW and 820 Nm of torque, was driven around the nearly 13-mile Nürburgring track in in 8:09.099 minutes. This is impressive for a world record for a production vehicle with an electric drive system at this facility, especially when you consider the current lap record for a combustion engine production car is 7:11.57 minutes, set by a Gumpert Apollo Sport that was powered by a 515 kW (700 hp) Audi V8 gasoline engine.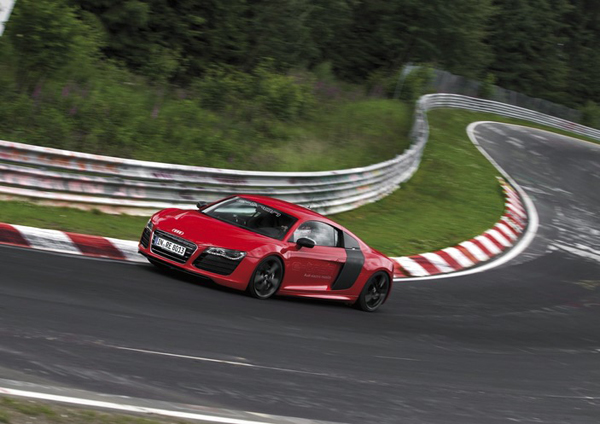 To make things even more impressive, the driver of the R8 e-tron, upon setting this record, promptly went out to set another record by driving "two fast laps in one go in a second R8 e-tron that was limited to 200 km/h (124.27 mph). At 8:30.873 and 8:26.096 minutes, both laps were well under the important nine-minute threshold."
The R8 e-tron, besides the dual electric motors, comes with a rechargeable lithium-ion battery that stores 49 KWh of energy, which reportedly is enough for a distance of close to 134 miles. It is a very light body design, weighing around 3,925 pounds, and is capable of driving from 0 to 62 MPH in around 4.6 seconds. It normally has a limited top speed of 124 MPH or so, but for purposes of setting the record it bumped up to around 155 MPH.
"Of course, the R8 e-tron is a production car, not a racing car with the assistance of aerodynamics," said the vehicle's driver Markus Winkelhock in a statement. "But with its low center of gravity and rear biased weight distribution, it brings with it a lot of sporty qualities. The torque with which the electric motors propel the car uphill beats everything that I know – even if they make hardly any noise in the process, which at the start was really a completely new experience for me. In places where I really need traction, the torque vectoring – the displacement of the torque between the powered wheels – really helps me."
Audi, in May of last year, announced the R8 would be available for purchase in late 2012 at a price point hinted to be around a hefty $250,000. The vehicle, which will have an external speaker to warn pedestrians of its presence, is part of the automaker's e-tron EV strategy, which has steadily been evolving for several years now.
Besides setting electric vehicle speed records, Audi has also been busy on the hybrid record front. It most recently came away victorious at the 24 Hours of Le Mans with the Audi R18 e-tron quattro, proving between this and the R8 outing at Nürburgring that high performance green cars can play quite nicely in the sandbox of their big gas powered engine brethren.