Rising sea levels associated with global warming are already changing coastlines [PDF]. But increasingly, they're changing architecture, as well.
A massive new floating hotel is currently under construction in the Maldives, a nation widely considered to be on the front lines of global warming.  (Its government is famous for having held a cabinet meeting underwater to highlight the threat of global warming to this group of islands in the Indian Ocean, just six feet above sea level.) Called the Greenstar, this hotel will feature 800 rooms and a conference center for up to 2000 participants. It is expected to become — appropriately enough — the premier location for global conferences on climate change, water management and sustainability.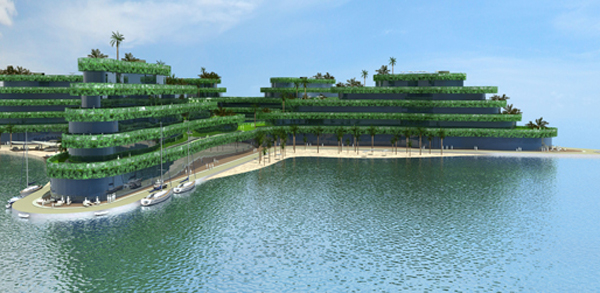 The Greenstar was designed by Waterstudio.NL, a Dutch architecture firm that led PBS to make the observation — in light of the Netherlands' long history of building barriers to hold back rising water for development — ""God made the world, but the Dutch made Holland." Waterstudio clearly takes that heritage seriously in looking to the future: its vision is to help developing solutions meet the problems posed by urbanization and climate change with large-scale floating project in urban environments. The firm sees developments such as these as both flexible and sustainable in a future where "planning for change" will constitute an imperative in architecture.
The firm has designed a number of floating buildings, from your average houseboat development (Netherlands) to a floating boulevard (Belgium), from "watervillas"  to a floating apartment building (both in the Netherlands) and even a floating mosque (United Arab Emirates). Besides its home turf of the Netherlands, however, much of Waterstudio's showcase projects are either located in or currently under construction in the Maldives — the Ground Zero of global warming.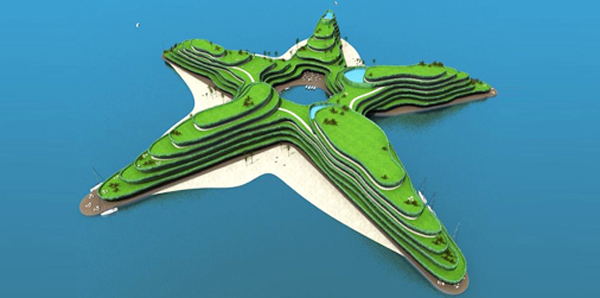 With its multiple levels planted with greenery, the Greenstar Hotel was designed to blend in naturally with the islands in its surrounding environment. The green-covered, star-shape of the building was chosen to symbolize the Maldivian government's  innovative approach to conquering climate change — to become a beacon of light, so to speak, in the effort to cut the human carbon footprint the world over and reverse the effects of global warming.
Of course, the people of the Maldives will have to continue to make a living even as sea levels rise, and this unique piece of tourist infrastructure — which will feature a floating restaurant next  door to the hotel — seems an ideal fit with the role this island nation has taken on in bringing attention to a global situation within the context of tourism.
The Greenstar Hotel will join a number of other Waterstudio.NL projects in the Maldives, including watervilla development, a number of private floating islands, a floating yacht club, and a large, recently completed joint venture between Dutch Docklands and the Government of the Maldives resulting in an ambitious master plan with more than 800 hectares/80 million square feet of water with floating developments.
The hotel is also a project of Dutch Docklands and is expected to be complete by January of 2014.