ScottishPower Renewables has just completed an initial testing period for its 1-megawatt (MW) tidal power project in the Orkney isles, located off the northern tip of Scotland.
The underwater turbine was installed last December and is set to be used in Scotland's first and only consented tidal power project. Since it began operating, the turbine has been providing electricity for homes and businesses on the island of Eday, one of Orkneys' northern isles.
Regarded as being at the cutting edge of tidal turbine design, the underwater HS1000 tidal turbine has been developed by Andritz Hydro Hammerfest using a technology mix combining traditional onshore wind turbines, subsea oil and gas production and hydro-power plants.
The turbine can generate enough power to supply 500 homes annually, ScottishPower Renewables said. A prototype device has been generating electricity in Norway for over six years.
The HS1000 was put in place last winter in some of the worst weather conditions Scotland has experienced in more than a decade. The device has since been undergoing testing in the fast flowing tidal waters that surround the Orkneys.
ScottishPower Renewables said the initial testing period had "been very positive with the device achieving full export power."
In a statement, CEO of ScottishPower Renewables Keith Anderson said: "The concept of generating electricity from the natural movement of the tide is still relatively new – and test projects like this are vital to help us understand how we can fully realize the potential of this substantial energy source.
"The performance of the first HS1000 device has given us great confidence so far. Engineers were able install the device during atrocious weather conditions, and it has been operating to a very high standard ever since. We have already greatly developed our understanding of tidal power generation, and this gives us confidence ahead of implementing larger scale projects in Islay and the Pentland Firth."
Anderson said Scotland had the best tidal power resources in Europe, which was the reason the most advanced research into marine energy was being done in Scottish waters.
Scotland has put itself at the vanguard of developments in wave and tidal power. Recently, Scottish First Minister Alex Salmond affirmed the country's commitment to renewables by unveiling a map showing investment announcements in offshore wind, wave and tidal power.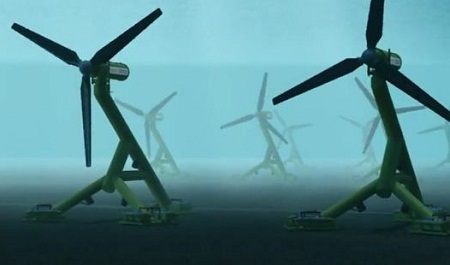 The first minister said that leases had already been granted to develop more than 11 gigawatts of offshore wind, wave and tidal-energy generating capacity up to 2020 – by which point the country aims to be finding 100 per cent of its domestic electricity needs from renewables, while continuing as a net exporter of power.
A key part of the country's renewables portfolio is the European Marine Energy Centre (EMEC) based in Eday. The testing center is being used to monitor the HS1000 device but engineers can also operate and inspect the device from Glasgow using mobile connections and an on-board camera.