Located south of Tacoma, Washington, Joint Base Lewis-McChord is a massive military facility that combines the U.S. Army's Fort Lewis and the U.S. Air Force's McChord Air Force Base. Taking up almost 16 square miles, the sprawling installation has more than 25,000 soldiers and civilian workers and supports over 120,000 military retirees and more than 29,000 family members living both on and off post. JBLM is so huge that it encompasses 115 live fire ranges, its own correction facility, a vet treatment center, a museum and dozens of combat units.
Now, according to the Army, getting around JBLM just got a bit greener. As part of a Hydrogen Fuel Cell Initiative, JBLM received a hydrogen bus to develop a route to take airmen and soldiers, civilian employees and family members around the base. The two-route, free shuttle system will cover main roads from McChord Field to Lewis Main and Lewis North.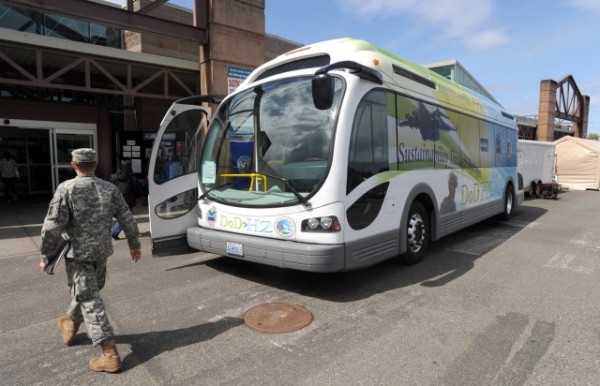 Tom Olsen, JBLM directorate of public works air program manager, has been working on the Hydrogen Fuel Initiatives on the installation, including hydrogen fuel- powered forklifts and a fuel station. The bus is the one piece of the project that everyone at JBLM can really see and potentially use. The time to embrace public transportation is now according to Olsen.
"Though it's cool to own your own car, it doesn't mean you have to drive it everywhere," Olsen said. "The bus gives folks options to get out of their car and take a form of mass transit, and in this case a form of mass transit that emits no emissions."
The Army didn't specify in its news release where it would be sourcing the hydrogen that would power the bus. However, earlier this year the Center for Transportation and the Environment announced completion [PDF] of a project to capture methane gas produced at the JBLM's wastewater treatment plant and process it into hydrogen. Previously, the gas had been flared into the atmosphere. The private company Air Products, which had done a similar project in Orange County that we reported on last fall, was the main contractor on the project.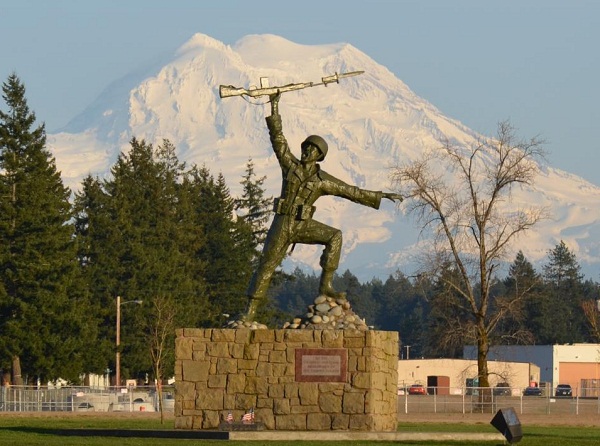 The Blue Route will start at 62nd Airlift Wing Headquarters and make stops at McChord Health and Wellness Center, McChord Clinic, McChord Education Center and Madigan Army Medical Center. It will then turn around and head back to 62nd AW Headquarters with the same stops. The route will go through gates between McChord Field and Lewis Main but will not need to be stopped for an ID check, as riders will already have been vetted when they entered JBLM for work that day. The bus on this route is expected to be a Bluebird bus and not the one hydrogen bus.
The hydrogen bus will be used for the Green Route. The route will run from the Hawk Education Center on Lewis North to Madigan where it will pick up and drop off passengers who need to ride the blue route, and turn around to head back to Lewis North. Stops include Lewis Army Museum, Garrison headquarters, Waller Hall, Lewis Main Exchange, Stone Education Center and Madigan.