Intro:
Do you ever gaze at your desk lamp and think "it puts out fine light, sure, but what if I could charge my iPhone with it too?" No? Well maybe that's why Philippe Starck, French rockstar of modern design, gets paid the big bucks. He not only conceives it, he accomplishes it in one of his latest contributions to the home appliance world: the FLOS D'E Light iPod charging lamp. Silver, shiny, and sleek, the D'E lamp has four main functions: to look good, to shed light on stuff, to charge your iPod/Phone/Pad, and to declutter your workspace or bedside table by combining all this into a single, stylish conversation piece. Let's discuss.
De-boxing:
The boxing of the D'E-Light is not really "green." At best it might be a neglected, yellowing lawn kinda green. The lamp comes suspended in an interlocking erector set of  foam blocks, cardboard cutouts, and plastic bags. If you ever hope to get it back into its box again you should take careful note of how all these shapes fit together, since you'll have a hard time making sense of this trash jumble otherwise.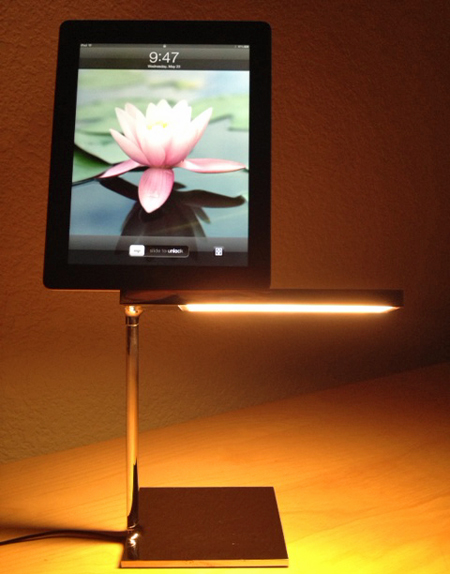 But when we excavated the lamp from its packaging we found it has a pleasant heft, like a polished post-modern update to the candlestick. Its stoutness and stable base will keep it from getting knocked over even when you grope for the light's switch in the middle of the night. An AC wall adapter handles power, and plug adapters for European outlets are included..
Features:
The D'E-Light stands about a foot high, and looks like a little metal lectern or music stand that's been cut in half from top to bottom. The height isn't adjustable, so this is definitely a desktop or bedside light source only, and its design puts your iPod or iPhone or iPad on top of the lamp to charge. Yes, that's right. We said on top of the lamp. Phillipe Starck has designed this device to serve not only as a classy little lamp, but as an elegant viewing and docking station for your portable Apple gizmos, too. A standard Apple charging plug base and a metal wing sprouting from the top of the of lamp hold your iPad or iPhone in place while they get juice.
Though it sounds strange, these portables actually look pretty cool perched on this thing, hovering above the warm glow that spills from the D'E-Light's yellow-LED strip. The lamp uses LEDs instead of standard CFL or incandescant bulbs, so it runs nice and cool. The manufacturer claims  it operates at "full power with 98% efficiency," meaning 98% of the electricity going into the lamp is turned to light. Lamps using incandescent or even CFL bulbs rather than LEDS tend to lose a fair amount of energy in the form of heat. You can use even less power by brushing your finger across the touch sensitive glowing orange switch at the corner of the lamp, which will dim the light by half. Another touch and it switches off.
Setup:
Setup of the D'E Light is easy, but you'll need space for an AC wall adapter. Plug it in and you're ready to light a small table and/or perch your iPad on the lamp to charge.
Performance:
The D'E Light could be the permanent base for your iPad or iPhone on your nightstand or desk. But because the lamp only holds iPhones or iPad in the vertical position, it's probably going to serve more as a charger and home base than as a workstation. Any app using widescreen format is out of the question while your iPad/Phone is attached to the lamp. Also the audio plugins on some older iPods are inaccessible at the bottom while they sit on the lamp to charge.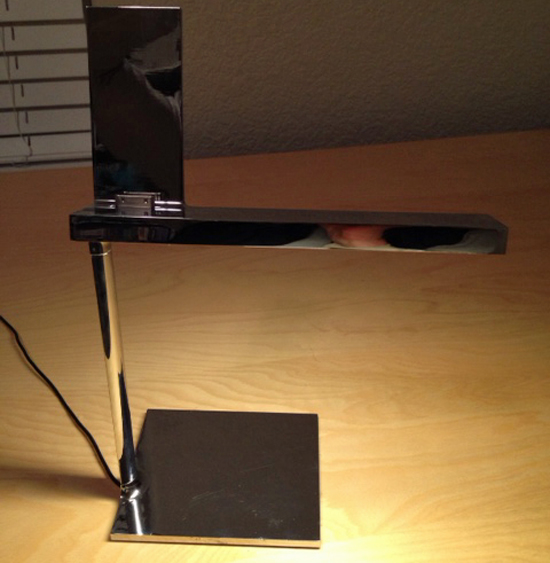 Given all this, the ideal location for this lamp is probably on a bedside table where one's (newer model) iPhone or iPad  parks for the night. In fact a D'E-light and iPad combo would be a chic (but not cheap!) gift for someone who needs a modern update to his or her bedside lamp and alarm clock setup. The lamp charges stuff fast, puts out beautiful reading light with little heat, and the silky smooth, touch-controlled on/off switch is subtly illuminated for easy finding in the dark.
Conclusion:
Flos's new iPhone charging, LED laden "D'E-Light" is a fine lamp for desk top use, but its most natural home may be on a bedside table where it can charge your iPhone/Pad while you sleep. Subtle and stylish, it's a sightly replacement for the standard charging cable snaking up from behind the desk or bed.
Phillipe Starck, the lamp's designer, has a modest winner here. Only those with enough cash  – $395 to be exact – to indulge in such an exotic appliance will go for it, but it will probably look better, put out nicer light, and run more efficiently than the bedside lamps it goes to replace. Plus—didja see?–your iPad is charging on your lamp! It looks like it's flying! Goodnight.