An automaker that specializes in converting gasoline-fueled cars in to electric vehicles (EVs) has opened its first dealership.
The flagship dealership was opened in Cincinnati, Ohio, the location of AMP Electric Vehicle's factory.

At the opening of the AMP dealership, the EV specialist premiered its most recent conversions: The MLe is based on the Mercedes ML350, and according to AMP is the only production all-wheel-drive electric SUV currently on the market. Another SUV getting a showing at the event was the AMP GCE, based on the Jeep Grand Cherokee. Both vehicles can travel up to 125 miles on a single battery charge.
"We are very excited and proud to share this important moment," dealership president Dana Hackney, who also owns Mercedes-Benz and Jeep dealerships in the greater Cincinnati and Lexington area, said in a statement. "To many people, the EVs that are on the market today are small. AMP all-electric SUVs offer a unique full-size EV experience. The wait is over. People wanting a full-size EV can now order an AMP."
Banking on the American consumer trend of wanting products that are big and powerful, the company has targeted its electrification technology at the SUVs and commercial medium duty vehicle. As a result their sales come from both consumers and commercial fleet clients.
Last year, AMP signed a fleet agreement with Icelandic company Northern Lights Energy (NLE) that the company said at the time was worth $100 million once fully executed. Under the deal, AMP was expected to send 20 vehicles to NLE, including a modified Chevy Equinox, which has a top speed of 90 miles per hour and an estimated range of approximately 100 miles on a full charge.
AMP modifies the vehicles with little-to-no change in the passenger and cargo room of each model.
Customers wanting to buy one of the company's conversions are eligible for federal tax credits introduced by the Obama administration to boost sales of EVs. Even with the $7,500 tax credits AMP's cars remain a luxury item, however.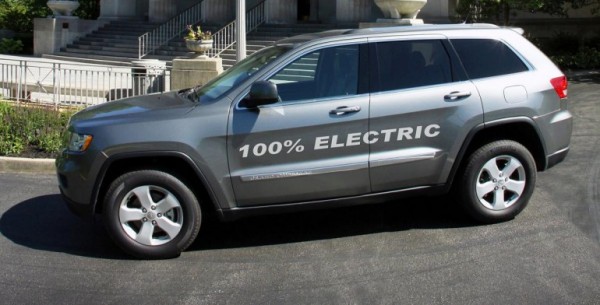 For example, the Jeep Grand Cherokee goes for $49,900 after the $7,500 federal tax credit. An additional $5,000 tax credit may be available in some states, but the price is still quite a lot higher than many smaller EVs.
AMP began taking order for the Jeep Grand Cherokee and the Mercedes ML350 conversion at the Cincinnati event. Buyers paid a fully-refundable deposit of $5,000 to reserve vehicle. First deliveries will take place before the end of 2012.
"These new AMP SUV EVs offer it all: All-Wheel Drive, safety, in a 100 per cent electric full-size vehicle," said Steve Burns, the president and founder of AMP said in a statement.
"To be the first to offer a full-sized AMP electric SUV is very exciting for the city of Cincinnati," Hackney added. "We encourage everyone to come by and drive this amazing vehicle."