There are many reasons why someone takes up the cause for renewable energy but few can have a more personal one than former U.S. Army Captain Jon Gensler.
Gensler, a West Point graduat, saw active service in Iraq in an infantry mortar platoon. Following a yearlong tour of duty he left the military and returned to civilian life in 2005.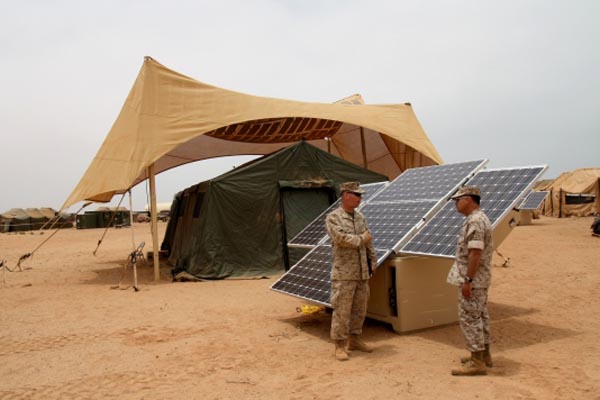 Although his military career was over the repercussions from his time in service lived on and within a four-month period between December 2007 and March 2008, he went to the funeral of two close friends who died on duty in Iraq. Captain Ben Tiffner and Captain Torre Mallard were both killed by roadside bombs.
"I found out that the materials used to make them were coming from Iran," Gensler told Earthtechling. "This was when it really hit home for me, that the issue of energy security was paramount to the future of our military."
Gensler, who now works as a project developer at the solar financier and integrator Borrego Solar, said he came to understand that the army's heavy dependence on oil was playing into the hands of its enemies.
"The Iranian regime that was supplying those bombs that killed my friends were funded by petrodollars and since the U.S is the biggest consumer of fossil fuels in the world, and the military is the biggest consumer in the U.S, we were effectively funding both sides."
This is the same conclusion reached by the Obama administration, which last week the president outlined a fresh roster of renewable-energy and energy-efficiency programs by the U.S military. The most ambitious component of the package was a vow to deploy 3 gigawatts of renewable energy—comprising solar, wind, biomass and geothermal—across all the services by 2025. The Pentagon already has a statutory goal of meeting 25 percent of its faciility energy needs with renewable energy by the same time.
The reforms are being sold by the White House as a bid to improve the military's and the nation's energy security, and while the president may also be motivated by a need to protect the environment, Gensler says the army does not think in such idealogical terms.
Gensler, who is also part of Operation Free, a veteran's advocacy group that campaigns on the issue of national security, said that while many in the military are convinced by the case for climate change, they see achieving energy security in purely pragmatic terms.
"For the Army this is a clear and present threat that needs to be dealt with," said Gensler, 34, who hails from West Virginia but now lives in New York. "In a post 9/11 world the less reliant they are on foreign oil the easier it is for them to operate. The oil market is volatile and if the cost of crude goes up by a dollar over a year, that costs the army $131 million in extra fuel."
He said in the field of operations it also had a significant impact. The military sustains a high volume of casualties from fuel being brought in on convoys—for every 50 convoys brought in a soldier is killed or wounded, according to some reports.
If bases in the field were able to run entirely off renewables then this would negate the need for these risky fuel convoys.
The military has already begun experimenting with portable solar equipment in Afghanistan. The marines there have begun trialling silvery tent liners that increase the efficiency of heaters or air conditioners. Also in use are portable solar-panel blankets, able to power communications gear for a patrol, which means carrying far fewer heavy batteries. One base even features a small shipping container connected to a bank of solar panels that is powering flat screens and surveillance equipment.
As part of this week's announcement the army unveiled a new 32,000-square-foot laboratory in Warren, just north of Detroit that can simulate Afghanistan's desert heat and Antarctica's extreme cold in an effort to discover how to save energy and make combat vehicles fuel-efficient.
"To be honest, your average marine isn't going to care too much if the tank he's riding is pumping out CO2, but he is going feel the benefit when the pack he's carrying weighs 20 pounds less because he's got a solar charger in there instead of a big heavy battery pack," he said.
"Energy security is one of the biggest issues we face and the more we embrace renewables, the safer and more secure we'll be," Gensler added.