Once, it was destined to become the world's largest solar power plant. A groundbreaking ceremony was even held, attended by big-shot pols from Washington, D.C., and Sacramento, Calif. But the Blythe Solar Power Project in California appears to be on the verge of death after a cascading series of financial failures, culminating today in the bankruptcy filing by project developer Solar Trust.
Solar Trust is a unit of Solar Millennium, a German company that itself filed for bankruptcy in December. According to Bloomberg News, Solar Trust said in its filing today that since Solar Millennium went under, it had turned off the money spigot, leaving Solar Trust unable to meet its obligations.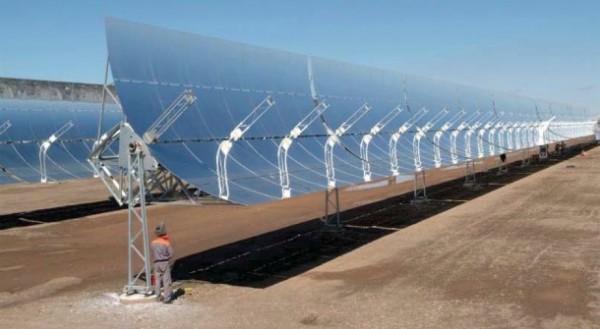 Hard to believe given the current state of affairs, but just a year ago Solar Trust was conditionally awarded a $2.1 billion loan guarantee by the U.S. Department of Energy (DOE) to build the first two units of the planned four-unit, 1,000-megawatt (MW) Blythe project. The two units were to be built using using "HelioTrough" concentrating solar power (CSP) technology.
But signs of trouble for the project emerged in August, when Solar Trust said it was ditching CSP and going to photovoltaic (PV) panels at Blythe, in the process giving up the federal loan guarantee before it was even finalized. Solar Trust and Solar Mellennium said at the time that the plummeting price of PV had forced the move.
With Solar Millennium then falling into dire financial straits, another German company, Solarhybrid, attempted to buy Solar Trust. That deal was on and off again at various junctures, before finally succumbing for good when Solarhybrid itself, just two weeks ago, moved to declare bankruptcy.
There remains the possibility that, with so much planning having been done on the Blythe project, and with state and federal approvals in place, someone might come in to pick up the pieces. Recall how Warren Buffett late last year swooped in to purchase the 550-MW Topaz Solar Farm after project developer First Solar saw its $1.93 billion conditional federal loan guarantee fall through.
"We have been working with Solar Trust of America for a couple of years in getting this project going," David Lane, Blythe's city manager, told Thomson Reuters. "Although the project is not in the city limits, we are the only city within 100 miles. My sense is that with the large investment in what was to have been the world's largest solar power plant, someone somewhere will buy it and build it."
Solar Millennium was also behind the Palen Solar Power Project, a 500-MW project proposed for a spot halfway between Indio and Blythe, and the 500-MW Amargosa project in Nevada. Those projects had no federal loan support and were not quite as far along in the approval process, but like Blythe, their fate now is unknown.