In Oldham—a town in Greater Manchester, England—an old Victorian mill is gearing up for the 21st century in much the same way as its contemporary, the Blackfrairs Bridge. Both are over 100 years old, both are listed historical structures, and both have gotten a steampunk makeover in recent years with the addition of solar panels.
Built in 1908, when the Lancashire region led the world in textile production, the Devon Mill is subject to strict English Heritage requirements, and as such posed a challenge to those wishing to make the switch to solar. Having satisfied/overcome those requirements, the developer, Sundog Energy, and the owners, Baum Trading, believe they have a blueprint for converting other, similar businesses. Their vision for the Devon Mill installation is that it will be developed into a demonstration center for potential customers, including the owners of other historical mills dotting the English landscape.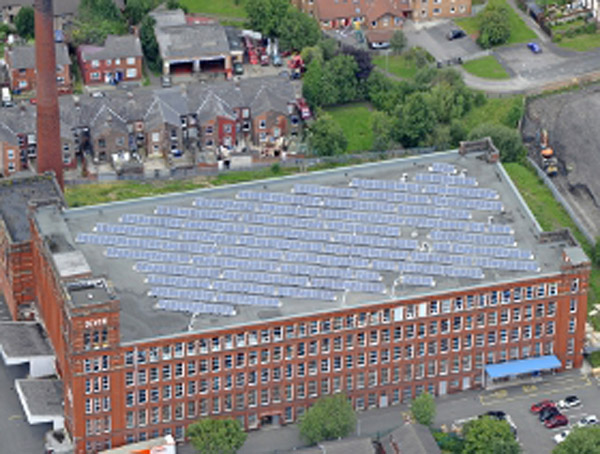 The installation consists of 143.3-kilowatt (kW) solar PV system that, according to Sundog, constitutes the equivalent of 30 typical household systems. It makes use of over 600 Trina Solar TSM-PC05 235W multicrystalline solar PV modules, producing enough power to generate 110 megawatt-hours of electricity per year (and saving around 65 English tonnes of CO₂), enough to knock out the entire power bill of the 220,000-square-foot mill building—with enough left over to export to the National Grid, via a handy feed-n tariff (FIT) program. (Three 50-kW SolarMax inverters from Swiss manufacturer Sputnik Engineering facilitate the system's connection to the grid.)
About that FIT program: Sundog was actually racing the clock to complete the Devon Mill installation within the time frame dictated by the government's reduction in the FIT. Whether or not that reduction will prove a deterrent to other mill-owners looking to go solar remains to be seen.
Bill Roberts, managing director of Sundog Energy said, in a statement: "This highly successful installation proves the viability of solar energy for historic commercial buildings with the roof space. An installation of this type gives payback in eight years or less. The solar PV system will last for decades. It's been built to last, with future generations in mind—like the mill itself."
He goes on to note that there are many businesses using old mill buildings such as the Devon Mill, and "it goes without saying that they should consider solar energy."