Professional sports have always been competitive, but there's a new game in town these days, for a new title: The Greenest Stadium in America. Among the latest contenders are the Minnesota Twins, with Target Field in Minneapolis-St. Paul taking LEED Silver in both the New Construction and Existing Buildings categories, and the Washington Redskins' 2-megawatt-capacity solar power system at FedEx Field (providing both power for the stadium and shelter for tailgaters in inclement weather).
But while the Kansas City Royals may be happy to claim that Kaufman Field now offers solar-cooled beer, the Philadelphia Eagles are going all the way to the Super Bowl of green sports by making good on their plans to install more than 11,000 solar panels (3 megawatts (MW) of generating capacity) and 14 micro wind turbines, which, all told, are expected to generate about six times the power used during all Eagles home games.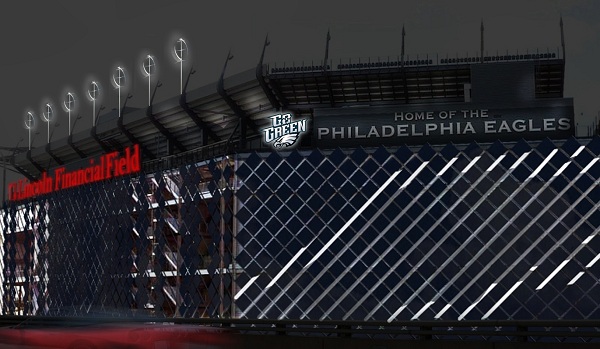 The project, undertaken with the Eagles' new major sponsor, New Jersey-based NRG, is expected to be complete in late December.
If all of this sounds vaguely familiar, you may recall that back in 2010 the Eagles made an announcement of similar plans, but with a different partner, Florida-based BlueSolar. According to the Philadelphia Business Journal, that deal fell through when the project—which included the construction of a cogeneration power plant—was determined to be unfeasible.
Under the Eagles' partnership with NRG, Lincoln Financial Field will feature solar panels along 11th Street and its south facade, and micro wind turbines along the top of the stadium on the north and south sides, which will provide for the majority of the power used by the field on an annual basis. The solar power system included in the deal, when complete, is expected to become both the largest in both the NFL and in the Philadelphia area.
The installation is expected not only to help the franchise cut its carbon footprint, but to advertise its eco-commitment to the world.
Scott Shively of the DLR Group—which designed the renewable energy system for NRG, as it has for several other NFL venues—said, in a statement, "The future of sustainable system design at public venues is to seamlessly integrate the renewable energy systems into the architecture of the stadium and adjacent facilities." Shively said the onsite power generation system at Lincoln Financial Field will be an aesthetically pleasing part of the design to "enhance the fan experience" while raising awareness of the Eagles' commitment to green power.
All of which will no doubt make Natural Resources Defense Council and the Bonneville Environmental Foundation happy, as the two groups prepared a solar development guide for every team in Major League Baseball, National Football League, National Basketball Association, National Hockey League and Major League Soccer back in 2010.  The Eagles, it seems, got the message.