If you were to guess the location of the largest high-efficiency solar installation for a residential home, you might figure somewhere like progressive California. Or maybe sunny Arizona. But you'd be wrong. The largest such system for a single family residence in the entire country was just installed in Hopewell, New Jersey, according to installer GeoPeak Energy.
The 62.4-kilowatt (kW) solar power system consists of a number of ground-mounted solar arrays comprising 260 high-efficiency SunPower panels. On its website, SunPower says its "solar cells convert sunlight to electricity at an operating efficiency of 22.4 percent, which means they produce up to 50 percent more energy per square foot than other solar technologies."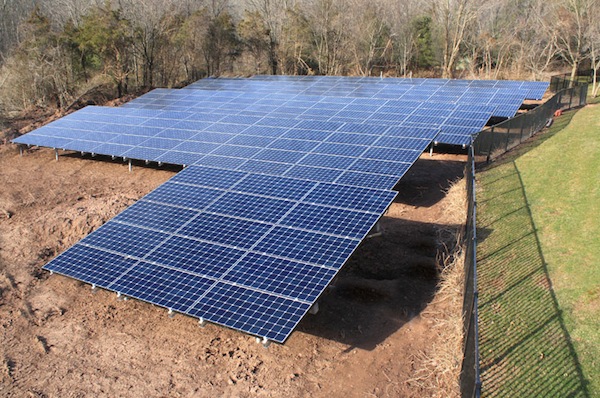 The installer said the system supplies 99 percent of the home's electricity needs.
You might have noticed that GeoPeak Energy bills this as the largest "high-efficiency" residential system in the country, which is apparently its way of conceding that there are other, larger residential systems that don't use panels with such high efficiency. For instance: There's the massive 150-kW setup installed last year at a Southern California estate using SolarWorld panels that are in the low teens in efficiency.
As we noted when telling the tale of that behemoth, most home solar-power systems are a small fraction of that size, with a modest system checking in with peak output of 1.5 kW. And at 5 kW, you can "completely meet the energy needs of many conventional homes," the National Renewable Energy Laboratory says.