Solar power is a clean, affordable alternative to conventional energy. Unfortunately, while sunlight can be found just about everywhere, the technology for harnessing it is pretty cumbersome. Ordinary solar panels are usually found bolted to roofs or fixed to poles in large ground-level arrays. But a Japanese company recently launched a line of portable solar panels that can be quickly set up to provide lasting power wherever you, and the sunlight, happen to be.
Part of a new "power generation anywhere" series, the dual solar panels are both flexible and foldable, allowing them to be gathered up into a convenient carrying case for easy transportation. From what we can tell from the Google tranlation of the Japanese information available, these panels seem to take portable solar charging beyond the gadget-boosting level we've seen a lot of at EarthTechling.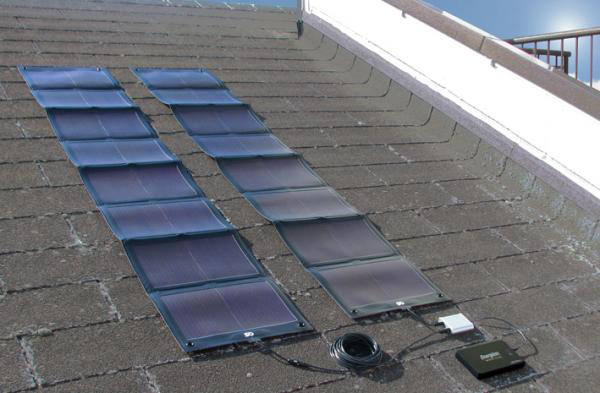 The design features two bendable solar sheets with a total combined  output of 64 watts. The panels are connected via cable to the consolidated unit as well as a lithium-ion polymer battery. The company claims that the battery, which comes equipped with an output terminal, can store enough solar energy to power a 4,500 mAh laptop for six straight hours. Charging time is said to be around five hours.
The folding solar panels are waterproof, and come equipped with a long cable so you don't have to sit right next to them while using your laptop. Simply spread them out on a roof, on your lawn, or hang them in a sunny window, plug in and enjoy!