Hydrovolts, the Seattle startup that wants to mine manmade waterways for clean power, is putting the concept to the test in a significant new way. Working with the U.S. Bureau of Reclamation, the company this month deployed its "Big Canal Turbine" in Washington state. The company reports that the device is generating continuous power.
The turbine was plunked—carefully—into the Roza Canal, which moves water east from the Yakima River to irrigate crops in one of Washington's most important agricultural regions. Hydrovolts said the device, capable of putting out up to 10 kilowatts (kW), was expected to produce 5 kilowatts (kW) in a flow of 2 meters per second. But with the water flow exceeding that speed, the turbine was steadily cranking out at least 6 kW, the company said.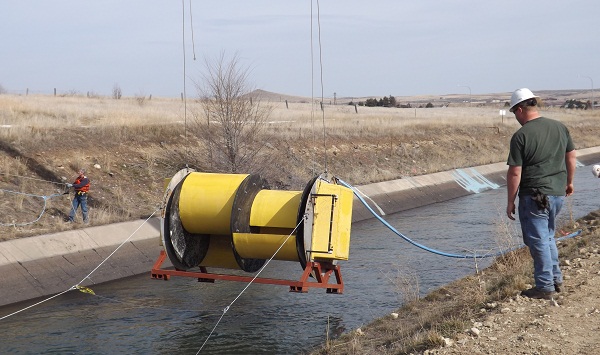 This actually isn't the first time Hydrovolts has dropped a turbine into the Roza Canal; it did so last spring and summer with smaller turbines, demonstrating installation and mechanical operation, but with no generator installed. This Big Canal Turbine deployment is allowing the company to monitor generating capabilities as well as fine-tune the device's positioning and operation. And the company is working to actually put the juice being produced to use, aiming to connect it soon to a nearby home with a grid-tie and net metering, allowing the homeowner to power her house and profit from any excess energy produced.
In an EarthTechling feature story last December, Hydrovolts CEO Burt Hamner said that when properly sited, the company's turbine is priced to pay for itself within five years. "The [turbines] simply make inexpensive power," Hamner said. "There are a million-plus miles of suitable canals out there. It's like the world is covered in highways of water, and we just invented the first car."
Hydrovolts said the section of canal where its device is now operating is around 11 miles long and operates all but one month of the year. The company noted that the Bureau of Reclamation oversees 50,000 miles of canals in 16 Western states—and then there are hundreds of miles of additional canals operated by 800-plus irrigation districts that receive water through the bureau.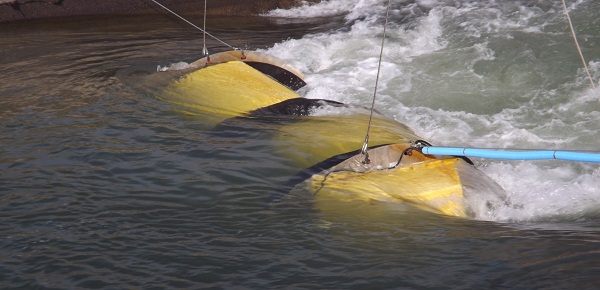 Hydrovolts said the Big Canal Turbine in place is the first module of a trio of 10-kW turbines the company is building for a project in India. The company said it is also making a "regular" Canal Turbine that would function in smaller canals, and those turbines will likewise be tested in the Roza Canal.
Hydrovolts was born from Hamner's desire to develop a "plug and play," drop-in micro-hydro turbine that requires no concrete or construction, and uses commercial off-the-shelf components. The turbine features a "flipwing" rotor, which uses hinged blades to rotate the center turbine shaft.