Did you know there are over a dozen different types of buoys used in the commercial and recreational shipping industries? Some are used by scuba divers to mark their position underwater, while others are equipped to measure weather conditions such as air temperature, barometric pressure, wind speed and direction and report these data to researchers via satellite radio links. One of the original purposes of the buoy was to mark a maritime channel, hazard or administrative area so boats and ships could navigate through them safely, and this is still an important use today.
Buoys are brightly colored so they can be spotted easily during the day, but at night alerting ships of their presence becomes more difficult. Some are equipped with bells while others have lights to illuminate the waterways at night. A new buoy concept by Ryan Chu hopes to use the rocking motion of the waves to power LED buoys in a cheap, reliable manner.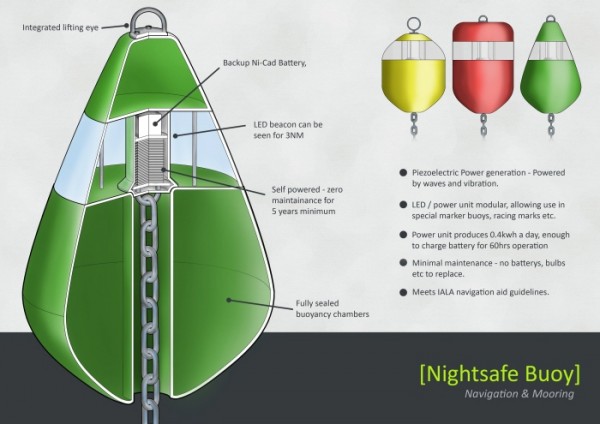 Instead of heavy, expensive batteries that need regular replacement, or solar panels that can become dirty, damaged, and therefore ineffective while the buoy is deployed, the Nightsafe Buoy concept incorporates an innovative piezoelectric system that uses waves and motion of the buoy to power its LED light.
The word piezoelectricity means "electricity resulting from pressure." In the case of the Nightsafe Buoy, the natural vibrations produced by the up and down motion of the waves is enough to power an LED beacon that can be seen for three nautical miles. According to Chu, just a normal day at sea will produce 0.4 kilowatt-hours of energy, which is enough to light up the beacon for 60 hours. And those involved in harbor maintenance and safety will be glad to know there are absolutely no batteries or bulbs to replace.