Even if you don't live in a region of the country prone to droughts, like California or Texas, where water rationing measures can go into effect at a moment's notice, knowing how to reduce your water usage is a useful skill. Especially when you're trying to save money, or protect valuable resources.
Now, there's a tool out there to help you do just that. Enter the Water Saver. The device tells you how much water you are using when you water your lawn or your flowers and was recently featured on RedFerret.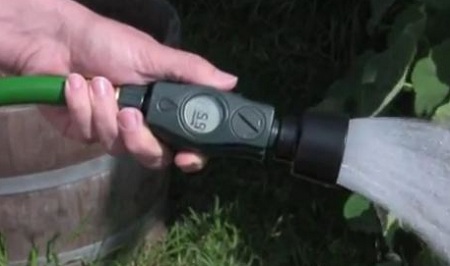 The Water Saver screws onto the end of a garden hose and lets you monitor your water usage through an LCD screen that measures the water output volume in either gallons or liters. The Water Saver was devised with reducing lawn and garden water usage in mind, along with reducing water used when doing chores like washing the car. Users can calculate the cumulative total of water over a period of time, or use the device's reset button to measure water output for each individual use. A 10-second auto-shutoff  is also designed into the Water Saver to help save battery power.
The Water Saver is said to fit standard hoses, spray-nozzles and outdoor faucets. It's available online or at your local Sears or Home Depot with a price tag of $24.99. Depending on what you pay for water – do you even know? –  it's not hard to imagine the device inspiring a passion for miserly water use that has you recouping the cost of the purchase in just one summer.
Unlike low-flow garden hose nozzles that are currently on the market, this product requires you to note how much water you are actually using when you water your azaleas. So the trick is to always be cognizant of the amount of water you use each time and then change your habits if you are using too much.
The Water Saver reminds us of another water saving device concept recently featured on EarthTechling, called Eco Tunes. Instead of saving water while cleaning cars, the Eco Tunes helps people monitor their water use while cleaning themselves. The concept hooks to your showerhead and visually and audibly tells you how much water you are using. The LCD screen suctions to the wall, and displays water-use data, just like the Water Saver does. But in addition, the ECO Tunes is coordinated to music. When you've used too much water, about 9 gallons, the music stops playing.
It would be great if the Water Saver was able to play music while you washed your car, but you'd have to be sure to have rinsed off all the soap before the music stopped.